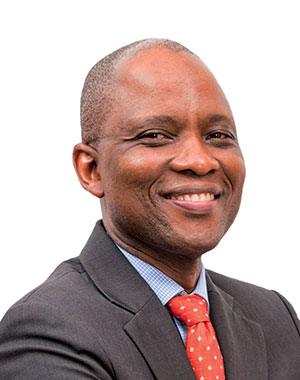 Mxolisi

Mgojo
CEO: Exxaro Resources
The first half of 2021 was one of the worst export rail performances for the industry.
MXOLISI Mgojo is entering the final straight on his watch running Exxaro Resources. He announced in March he is due to retire in May 2023, when he reaches 63, and will be replaced by Exxaro minerals MD Nombasa Tsengwa. Mgojo is the third CEO of Exxaro since it was created, following in the footsteps of his former partner, Sipho Nkosi who, in turn, had taken over from Con Fauconnier. All three have played huge roles in getting Exxaro to where it is now: one of South Africa's most successful and profitable mining groups.
Mgojo has arguably had the roughest ride because he has presided over a major change in strategy, swinging Exxaro from dependence on coal to a proposed diversification into a range of other commodities, all potentially involving big capex investments. The group is also looking to diversify into renewable energy projects through subsidiary Cennergi. The market is wary of what may be to come given that Exxaro's last diversification foray - into iron ore in the Republic of the Congo - was a disaster, resulting in a R5.3bn write-down, taken in 2014. A major challenge is that Exxaro is competing with much larger companies operating in strong currency districts for sparse copper resources – one of its desired metals - along with manganese and bauxite.
Mgojo is a very different CEO to Nkosi - being soft-spoken and, by his own admission "cagey" compared with the bluff and outgoing Nkosi. But he is not one to be pushed around and, unusually for South African business executives who are generally loathe to rock the boat, Mgojo is prepared to "put the boot in" when required. He had a major row with Eskom over coal cutbacks in 2020 and was among the first to publicly denounce Transnet's miserable export rail performance during 2021.
LIFE OF MXOLISI
Mgojo's initial career was in computers as a software engineer after completing a BSc Computer Science from US-based Northeastern University. To that he subsequently added a BSc Energy Studies from Rand Afrikaans University and an MBA from Henley Management College. He then built up a wealth of practical business experience, founding Eyesizwe Coal with partner Sipho Nkosi, which the two developed and then "wheeled and dealed" into creating coal giant Exxaro in 2006. Mgojo became executive head of coal at Exxaro in 2008, and took over from Nkosi as CEO in 2016. He was president of the Minerals Council South Africa for four years.
More Rainmakers & Potstirrers