CEO: Exxaro Resources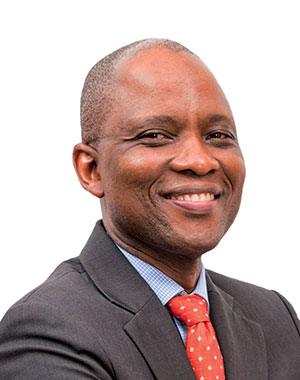 Mxolisi Mgojo added his voice to the groundswell of popular opinion last year that urged the South African government to enact economic reform, particularly of its state-owned enterprises. As the biggest and most enduring black-owned coal company, and Eskom's largest supplier of coal, Exxaro has first-hand experience of what institutional dysfunction can do.
Its relationship with Eskom has long been an up-and-down affair. Take Eskom's repeated failures to take delivery of coal from Grootegeluk, Exxaro's expanded Limpopo province mine. It was one feature of a heavily deteriorated relationship with former Eskom management. Eskom's refusal to invest in Exxaro's Arnot coal mine was another point of dispute. The two sides later wrangled over which was responsible for the shortfall on the rehabilitation provision. Exxaro won the day.
By April 2019, however, Exxaro arranged for ownership of Arnot to be transferred to a consortium that included retrenched workers. Mineral Resources and Energy Minister, Gwede Mantashe, praised Exxaro for turning a crisis – wrought under the custodianship of his predecessor, Mosebenzi Zwane – into an opportunity. Although Exxaro's relationship with President Cyril Ramaphosa's government, and new leadership at Eskom, has visibly improved, the wider operating environment for coal mining has not. The sector is beset by Eskom's crisis, and the darkening of mood among society towards fossil fuels. As a result, Exxaro is accelerating exploitation of its current reserves today fearing that development tomorrow may not be viable.
It is also adapting to the climate change risk. Mgojo says that while Exxaro's investments in the "business of tomorrow" – land and water use as well as renewable power – is still a small constituent of the overall business, the strategy is guided by "a focused and informed strategic plan".
"WE HAVE BEEN PATIENT; WE HAVE MADE PEOPLE AVAILABLE; WE HAVE ENGAGED WITH THE ECONOMIC CLUSTER, BUT WE HAVE SEEN NO ACTION."
LIFE OF MXOLISI
He was Sipho Nkosi's right-hand man when Exxaro was formed in 2006 through the merger of Kumba's coal interests with those of Eyesizwe Coal. He was responsible for marketing and logistics at Eyesizwe and became first head of marketing at Exxaro, then head of the base metals and industrial minerals business and finally head of carbon operations. He was appointed as CEO of Exxaro in 2016, when Nkosi retired. Born in Durban, KwaZulu-Natal in 1960, Mxolisi has a string of qualifications including a BSc in computer science from North Eastern University in Boston, US and an MBA. He reads spiritual books and enjoys watching sports and listening to classical music. He has served as president of the Minerals Council South Africa since 2017.