Executive Chairman: African Rainbow Minerals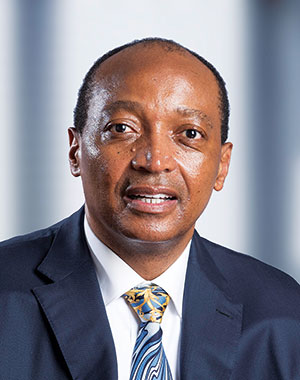 We are a bit worried about Patrice. Not, let's hasten to say, because of any concerns over his group – African Rainbow Minerals. And it's also not because of any niggles over his financial acumen which looks as incisive as ever as evidenced through his "side hustles" such as the Last Mile Fund with Bernard Swanepoel and African Rainbow Energy & Power with former Eskom CEO, Brian Dames. It's just that in his recent appearances at ARM result presentations he does not behave like the same old Patrice. Frankly, he seems to be getting more serious and conventional.
We have frequently commented on the unique Motsepe oratorical style. There is no one like him in the South African mining space once he gets hold of a microphone. He is prone to going off on tangents that take him far away from the subject at hand and his penchant for name-dropping is legendary, usually prefaced by lines like "...when I was in Davos in a room with three of the most famous economists in the world". His hallmark introductory comment at the start of any financial presentation is: "I will keep this short". The point is that you have to listen to him carefully despite all the red herrings because that outpouring frequently contains genuine insights.
He was the first mining executive to highlight the importance of growing community unrest around the mines and he did it with a throwaway comment in his opening remarks. So it's notable that last year, Motsepe actually kept his introductory remarks short at his presentations.
"ARM WILL ONLY DO WHAT IS IN THE BEST INTERESTS OF ARM SHAREHOLDERS."
LIFE OF PATRICE
He's a lawyer by profession with a BA Law from the University of Swaziland (now University of Eswatini) who got his start in mining through contract gold mining when he set up Future Mining in 1994 and won a number of contracts operating on mines owned by AngloGold. From there he embarked on a series of acquisitions building up his organisation – then called Armgold – to the point where he made the breakthrough into the big league through the merger with Avmin in 2003 with Avmin changing its name to African Rainbow Minerals. A non-executive chairman of Harmony Gold and deputy chairman of Sanlam, Motsepe is probably best known to the general public as president of Mamelodi Sundowns Football Club.