African Rainbow Minerals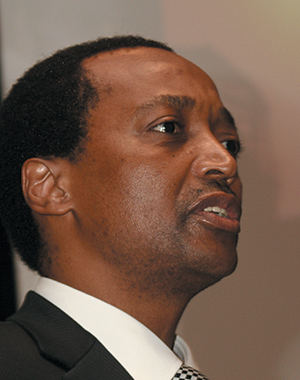 WE have time and again "taken the Michael" out of Motsepe for his oratory style, which involves such techniques as blatant name-dropping; going off on tangents, and generally avoiding issues on which he does not want to be pinned down. But on those rare occasions when he does get to the point, what Motsepe has to say is penetrating and insightful. The latest example was the warning he sounded last year about the highly politicised interaction between the mining sector and local communities, which he said had become "critical". That was in March and Motsepe was talking specifically about the situation at ARM's Modikwe Platinum mine near Steelpoort, but he warned the situation would spread across the industry. He also cautioned that the mines could expect no help from the South African government. Those were prophetic words as subsequent events were to show. Motsepe pulled no punches declaring: "... the business community must understand the politicians will throw us in front of any bus or any train that comes along if their choice is between the votes they get from the communities and business community which we represent." Meanwhile, Motsepe has increased his activity in founding new businesses lately. He set up privately owned African Rainbow Energy & Power – run by former Eskom CEO Brian Dames – and most recently created the "Last Mile Fund" with Bernard Swanepoel.
LIFE OF PATRICE
South Africa's richest black businessman is a lawyer by profession who got his start in the mining business when he set up Future Mining in 1994 as a contract gold mining outfit. From there he built his organisation up through a string of deals, starting small by taking over various marginal gold mines and reaching the point where ARM was doing major deals like taking over the former Avmin. Despite his dominant role in mining, Motsepe attracts most media coverage through his involvement in soccer as president of Mamelodi Sundowns Football Club.