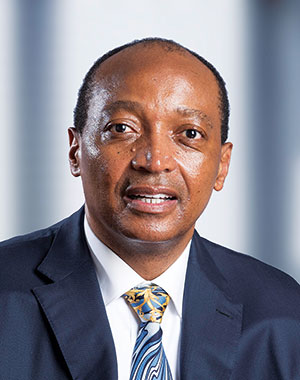 Patrice

Motsepe
Executive Chairman: African Rainbow Minerals
The acquisition of Bokoni will enable us to scale our platinum group metal portfolio and improve ARM's global competitiveness.
AFTER years of hints, innuendos, sort-of promises and vague statements that African Rainbow Minerals (ARM) intended doing a major deal to expand and/or diversify its operations, Patrice Motsepe finally took the plunge late in 2021, buying the mothballed Bokoni platinum mine for R3.5bn in cash. ARM also committed to investing a further R5.3bn over the next three years to redevelop Bokoni as a new mine. That took nearly everybody by surprise because, when you attempted to boil down Motsepe's various utterances over the past few years, it appeared copper was his top priority while Bokoni is, well, a dog.
Bokoni was previously known as Lebowa Platinum and neither former owners Anglo American Platinum nor the last operator, Anooraq Resources/Atlatsa, could make a go of it because of the difficult mining conditions. Bokoni was finally put on care and maintenance in 2017. The attraction for ARM is the huge size of the Bokoni platinum group metals (PGM) resource which, at 153 million ounces, is the second largest in South Africa, according to ARM. The group also believes it can turn the operation around by developing a new, mechanised mining operation on the UG2 reef, where the previous operators had focused on the Merensky Reef.
The new Bokoni will be low cost because of its mechanised approach, operating at shallow depth, and it will also benefit the group because of its proximity to ARM's other two nearby operations, the Modikwa and Two Rivers mines. All in all, Motsepe reckons this deal will position his group as a "significant" PGM producer, which analysts speculate could be listed separately. Motsepe's unerring eye for management talent will be tested again this year, with ARM CEO Mike Schmidt set to be replaced.
LIFE OF PATRICE
Motsepe is among the most successful and one of the best known South African entrepreneurs to emerge in the last 20 years. A lawyer by training, holding a BA Law degree from the University of Swaziland, he got into resources by founding Future Mining in 1994 as a contract mine working on various AngloGold Ashanti mines. That grew into ARMGold, which was listed in 2002 and was followed by the merger with Harmony and Avmin to create ARM in 2003. Motsepe holds honorary doctorates from four universities and has held numerous top positions in organised business bodies. He is best known to the South African general public as the president of Mamelodi Sundowns Football Club.
More Rainmakers & Potstirrers