Royal Bafokeng Platinum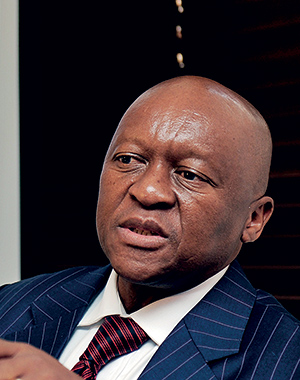 AMONG Phiri's biggest worries as CEO of Royal Bafokeng Platinum (RBPlat) is the company's relationship with the Department of Mineral Resources (DMR) and its safety inspectorate. This follows a spate of shutdowns late in 2017 seemingly linked to the termination of an agreement with contract miner, and Gupta-linked, JIC Mining. Mineral resources minister Mosebenzi Zwane has an uncomfortably close relationship with the Indian family, the interests of which are entwined with those of South African president Jacob Zuma; his family; some of his ministers; and heads of state-owned enterprises. The apparent DMR reprisal comes as RBPlat struggles with a low platinum group metal basket price and the need to bring its new Styldrift mine into steady-state production in the final quarter of 2018. Despite the headwinds at existing operations, RBPlat nonetheless launched the long-awaited consolidation of assets in the orbit of its Styldrift by buying the failed Maseve mine and concentrator from Canada's Platinum Group Metals. The jewel in the purchase is the concentrator. However, Styldrift partner Anglo American Platinum is sure to knock on the head any plans to tackle parts of the Styldrift orebody through the Maseve infrastructure. Another worry, which surfaced recently, is renewed community violence near RBPlat's Bafokeng Rasimone Platinum Mine. A protestor was shot dead in January amid heightened tensions in the area.
LIFE OF STEVE
Phiri has a string of degrees behind his name, including a BJris, LLB, LLM and Dip Corp Law. He has been part of the Royal Bafokeng Nation's businesses for years: heading its corporate and legal affairs, then becoming the CEO of its chrome unit, Merafe Resources, and then into the formation of RBPlat in 2010 where he has been CEO since.