CEO: Royal Bafokeng Platinum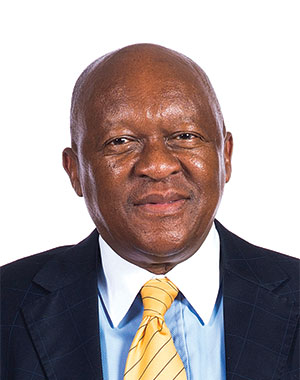 Steve Phiri generally likes to keep a low profile and he seems to have excelled at that last year insofar as he delegated most of the talking to his CFO, Hanré Rossouw. That's in pretty stark contrast to 2017 when Phiri got stuck into then mines minister, Mosebenzi Zwane, and openly feuded with the Department of Mineral Resources over unnecessary Section 54 stoppages.
There are obvious reasons for the change in Phiri's "activism". Zwane is gone; S54 stoppages have been brought under control, and anyway, it was financial issues that dominated RBPlat's life last year and in 2018 for that matter. During that time, the group digested the acquisition of the adjacent Maseve mine, as well as the purchase of Amplats' 33% remaining share in the Bafokeng Rasimone Platinum Mines (BRPM) joint venture. RBPlat also brought the Styldrift expansion into production.
Phiri's outlook for 2019, given in his annual review published in March last year, was overwhelmingly neutral giving no clear direction... but then, what do you expect from a lawyer? 2019, however, was busy. First up for RBPlat was a deeply discounted rights issue which raised R1bn to secure the expansion at Styldrift. Then came a streaming deal through which RBPlat agreed to sell much of its future gold by-product output to US investment firm Triple Flag for $145m in cash. The cash was earmarked to settle the R1.8bn owed to Amplats for the purchase of its 33% stake in BRPM. RBPlat's other major step during the year was to sign a five-year wage agreement with the NUM. Totting it all up, the outcome was favourable for RBPlat share price despite reporting an interim loss in August thanks mainly to underperformance at Styldrift.
"THIS TRANSACTION (WITH TRIPLE FLAG) ADDS FURTHER STRENGTH TO RBPLAT'S BALANCE SHEET."
LIFE OF STEVE
He's a lawyer by profession holding a B.Juris degree and an LLB. He followed a "legal eagle" career as an attorney and partner in a legal firm until 2000 before then moving into mining as CEO of ferrochrome producer, Merafe Resources. That's a position he held for six years before being appointed at RBPlat in 2010