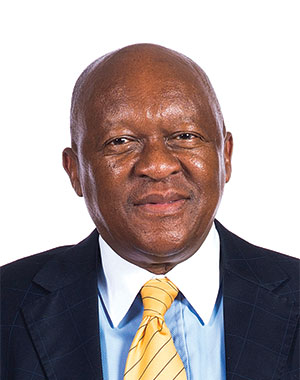 Steve

Phiri
CEO: Royal Bafokeng Platinum
You do not give up your heritage, no matter the price.
COULD this be the year we bid goodbye to Steve Phiri, a member of Rainmakers & Potstirrers since 2011? The former lawyer is at retirement age and is scheduled to step down at Royal Bafokeng Platinum (RBPlat), the company he has run since its inception. However, his immediate destiny will also be shaped by the outcome of a duel between South African compatriots Impala Platinum (Implats) and Northam Platinum, which last year lit the touch paper of industry consolidation by bidding for shares in Royal Bafokeng Platinum (RBPlat). If this is goodbye, Phiri went out all guns blazing after criticising - in spectacular fashion - former RBPlat shareholder Royal Bafokeng Holdings (RBH) after it sold its 32.8% stake to Northam Platinum - a surprise deal that stymied Implats' earlier offer for 100% of RBPlat shares.
Phiri properly laid into RBH saying it had sold out its legacy for money and had potentially prejudiced other shareholders to boot. He also called on Northam Platinum to show its hand after it increased its stake to 34.9% of RBPlat, saying it was time to "put up, or shut up".
This outspokenness is not surprising because Phiri has past form. We recall how, during the Jacob Zuma presidency, he laid into public sector corruption, which he styled as a "national sport". It's worth remembering that not many people were raising their heads above the parapet at the time.
Commenting on his immediate future, Phiri said he "may linger" at the company whilst transactional uncertainty swirled. Normally, a successful 100% offer would see RBPlat delisted, but with Northam's shareholding certain to be permanent, a joint venture is the most likely the outcome which could see it remain listed.
LIFE OF STEVE
Phiri is a lawyer by trade, holding a BJuris degree and an LLB. He practised as an attorney and partner in a legal firm until 2004 before he moved into the mining industry as CEO of ferrochrome producer Merafe Resources. After six years running Merafe, he shifted to become CEO of RBPlat in 2010. Phiri has shown himself to be capable of incisive and hard-hitting comments when necessary. Examples are the feud he had with the Department of Mineral Resources over the spate of politically motivated Section 54 work stoppages it was imposing on the mining industry, and his scathing assessments of Mosebenzi Zwane, South Africa's worst-ever mines minister.
More Rainmakers & Potstirrers