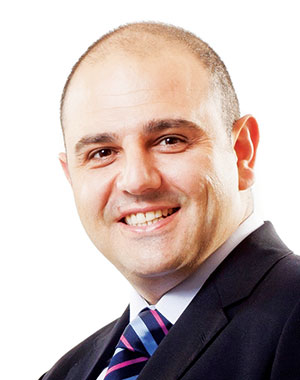 Phoevos

Pouroulis
CEO: Tharisa Minerals
We believe PGMs will play a vital goal in the zero-emission energy solution.
THARISA Minerals cracked it for a second year in a row during 2021, shrugging off the challenges of Covid-19 and reporting record results. The firm's CEO, Phoevos Pouroulis, reckons there's more to come this year as platinum group metal (PGM) prices remain high and the group's internally designed and funded Vulcan Plant kicks in. Vulcan is designed to recover chrome concentrates from chrome ore ultra-fines and is expected to increase the group's chrome production by about 20%. But the $64,000 question is whether 2022 is the year in which Tharisa will actually take the first significant step towards developing the Karo Platinum project in Zimbabwe.
Pouroulis has been talking about this for years but action on the ground has been minimal for various good reasons, not least of which is the volatile political and economic situation in the country. Tharisa has a 26.8% stake in Karo, which was awarded a "special grant" to PGM rights over 23,903 hectares on the Great Dyke, followed by a mining lease in March 2021. According to Pouroulis, Karo is "progressing into project execution and development" and Tharisa is "evaluating its option to acquire a controlling interest".
But for this to actually happen, at some point a decision has to be taken to start ploughing in the $300m-odd required in capital expenditure to build the mine. So far, Pouroulis has moved cautiously. His only real exposure is the Salene Chrome open-pit mine on the Great Dyke, which has started mining production, with plant commissioning scheduled for the first quarter of 2022. He says Salene Chrome will allow Tharisa to take its first step on developing an asset before construction of the larger Karo project.
LIFE OF PHOEVOS
Pouroulis is the youngest son of one of South Africa's best-known mining entrepreneurs, Loucas Pouroulis, who is the chairman of Tharisa. He holds a bachelor's degree in science and business administration from Boston University and has been involved in South Africa's mining industry since 2003 in a number of mining ventures. He has served as commercial director for Chromex Mining and was a founding member of coal producer Keaton Energy. He sits on the council of the International Chrome Development Corporation. Tharisa is headquartered in Cyprus, which is where the Pouroulis family originally came from.
More Rainmakers & Potstirrers