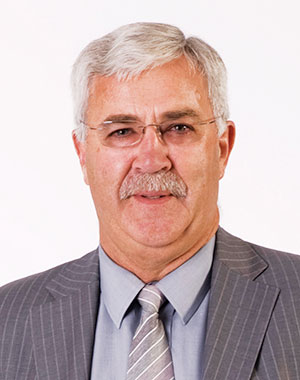 Danie

Pretorius
CEO: Master Drilling
We have been around the block a few times since we started the business in 1986.
DIVERSIFICATION – both in geography and commodity – and technological advancement are central strategies for the Johannesburg-listed mining services company Master Drilling and its founder, Danie Pretorius. Covid-19 restrictions initially hit the group hard, especially in South America, but it has staged a rapid recovery. In South Africa, Master Drilling reaped the benefits of more activity in the platinum group metals sector while in West Africa the upturn in the gold price has created opportunities. It's also been adding contracts in Russia, Australia and Central Asia.
Pretorius says although few new mines are being established globally, Master Drilling is able to benefit from capacity expansions incentivised by metal prices. The group's global expansion, especially since 2013, flies in the face of the multi-year downturn in the commodities sector from 2010 to 2019, which started soon after Master Drilling's listing on the JSE in 2012.
Shareholders may be displeased with the lack of dividends in 2019 and 2020, when the company struggled, but arguably cash was better spent on upgrading the fleet of raise-bore drills, which generates future work. Autonomous mining represents the future, in Pretorius's view. Master Drilling has made two investments recently to advance its ambitions: in AVA Solutions, which provides data-driven mine fleet management solutions, and in A&R Engineering and Mining Supplies, which provides management and safety systems for underground rail and trackless equipment.
LIFE OF DANIE
Pretorius is a hands-on technical man, as well as an entrepreneur. He acquired a Government Certificate of Competency as an engineer in 1983 and founded Master Drilling three years later. In 2000, Master Drilling put its first self-designed, low-profile raise bore and blind hole machine into operation in South Africa. He is actively involved in the design and modification of the group's raise bore fleet and remains a significant shareholder. Pretorius's previous experience includes working for Western Deep Levels Gold Mine and Murray & Roberts.
More Rainmakers & Potstirrers