CEO: DRDGold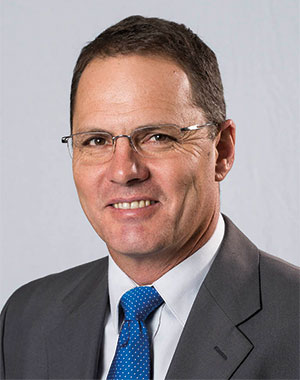 DRDGOLD is a far more stable entity as a specialist gold retreatment company than ever it was as an underground gold producer. That's largely thanks to Niël Pretorius whose years spent honing the firm's tech-heavy processing skills have ultimately resulted in a deal with Sibanye-Stillwater. The platinum/gold producer took a 38.5% stake in DRDGOLD in 2017 with an option to go to 50.1% which it duly exercised in January for a bargain R1bn in cash. In return, DRDGOLD took over the surface gold of Sibanye-Stillwater's Libanon and Driefontein. The cash from the option exercise will be more grist to the mill as Pretorius embarks on the second phase of the asset's mining, collectively known as Far West Gold Recoveries.
Mild-mannered, but outspoken, Pretorius has expressed his concerns regarding the gold industry's relationship with its mining communities. He has also waxed, more angrily, on the industry's troubles with Eskom on which DRDGOLD heavily relies. But if there is one stain on DRDGOLD, it would be that it shares with Village Main Reef over the handling of Blyvoor, a loss-making asset that DRDGOLD sold but VMR didn't – apparently – complete buying.
Responsibility for the community suffering as a result of the bungled transaction is still a matter for the courts. Returning to its relationship with Sibanye-Stillwater, it will be interesting to see if DRDGOLD ends up being the vehicle into which AngloGold Ashanti's Mine Waste Solutions is parked, assuming Sibanye-Stillwater buys the asset along with Mponeng, the deep-level gold mine AngloGold put up for sale last year.
"OUR EXPERTISE IS RARE. WE HAVE A TEAM THAT KNOWS EXACTLY HOW TO EXTRACT THE GOLD OVER MANY YEARS OF EXPERIENCE."
LIFE OF NIËL
With law degrees from Rand Afrikaans University and the University of the Free State, Niël Pretorius joined DRDGOLD in 2005 as GM of corporate services. In 2009, he was appointed CEO. He is a qualified pilot and is wont to take the intrepid for a whirl above DRDGOLD's operations, if they so desire.