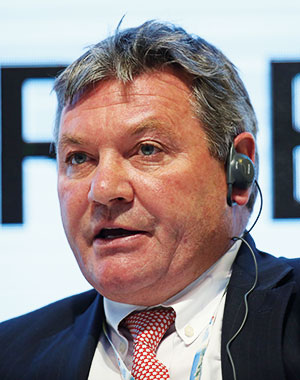 J-Paul

Rollinson
CEO: Kinross Gold Corporation
Tasiast mine in West Africa's Mauritania has been the star turn in Kinross Gold in recent years
TASIAST mine in West Africa's Mauritania has been the star turn of J Paul Rollinson's Kinross Gold in recent years. In fact, it and the Ghana mine, Chirano, comprise about a fifth of the group's annual gold production. In June, however, a mill fire at Tasiast heavily impacted production. The outcome was a third-quarter $44.9m net loss for Rollinson & Co. One $20m refurbishment later, however, and Tasiast is back on track.
The expectation is that, along with production growth at Kinross Gold's La Coipa restart project in Chile and some incremental output growth from Fort Knox mine in Alaska, Tasiast will be the key driver of production growth rising from 2.1 million gold equivalent ounces in 2021 to 2.7 million and 2.9 million oz in the group's 2022 and 2023 financial years respectively. The relationship with the Mauritanian government continues to evolve, as it should.
In July, Kinross agreed to pay $10m to the government relating to "disputed matters"; it also put two government representatives on the board of the subsidiary company managing the mine. This "definitive agreement" built on a 2020 pact in which Kinross agreed to pay the government an improved royalty rate linked to the gold price while receiving exemptions on fuel duties. In return the Mauritanian government is to pay $40m to Kinross in VAT returns over five years. The blue-sky Tasiast Sud project was not included in the deal.
LIFE OF J-PAUL
Rollinson is a qualified mining engineer and geologist who ran Deutsche Bank's Americas mining division. He was also deputy head of investment banking at Scotia Capital, and took over Kinross in 2012. He comes from mining stock: his father was a metallurgist and the family consequently lived in Canada's wide open spaces. Fishing, skiing and boating are among his interests.
More Rainmakers & Potstirrers