CEO: Kinross Gold Corporation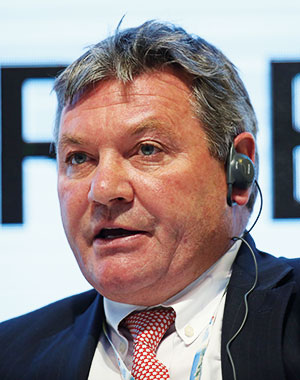 Kinross Gold finally inked the second phase expansion of its mammoth Tasiast mine in Mauritania, a development helped by a meeting between Rollinson and Mohamed Ould Cheikh El Ghazouani, the former defence minister of the west African nation prior to his presidential election in June. It was at that constructive meeting that a new, three-year labour agreement was signed which helped smooth over previous bumps with Mauritania. It had last year threatened to interfere with the Tasiast expansion project altogether, rejecting its expansion permit on the basis it wanted to discuss new participation terms.
Happy days, however: the $150m expansion – a lower cost iteration implemented through continuous improvement and debottlenecking of the existing operations – is now benefiting from a healthy gold price, having been predicated on a break-even level of $1,200/oz. In December, terms were agreed with lenders – including the World Bank's International Finance Corporation – for loans totalling $300m. When completed, the second phase expansion will take average gold production to 563,000 oz/year from about 300,000 oz/year and should go some way to retrieving the rather expansion route through which Kinross first made its investment in Mauritania: through the $7.1bn takeover of Australia's Redback Mining in 2010. Including production from Kinross' Chirano mine in Ghana, Rollinson's firm derives about a quarter of its total 1.2 million oz/year production from Africa. The second phase expansion of Tasiast helps sustain the importance of the continent to Kinross.
"THE COMPLETION OF THIS FACILITY UNDERSCORES THE ATTRACTIVE FOREIGN INVESTMENT CLIMATE IN MAURITANIA."
LIFE OF J-PAUL
Rollinson is a qualified mining engineer and geologist who ran Deutsche Bank's America's mining division. Rollinson was also deputy head of investment banking at Scotia Capital. He took over Kinross in 2012. He comes from mining stock: his father was a metallurgist and consequently lived in Canada's wide-open spaces. Fishing, skiing and boating are among his interests.