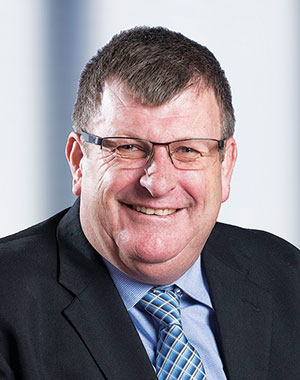 Peter

Steenkamp
CEO: Harmony Gold
We need to address this production cliff and it will be addressed.
PETER Steenkamp has had a good run with Harmony Gold since he took over as CEO in 2016. However, the group lost some traction last year as the gold price stagnated and development of the Wafi-Golpu project in Papua New Guinea (PNG) remained bogged down for a third year by local politics. The Harmony share price underperformed despite good results for the year to June, which saw production guidance met, profits soar, dividends paid and net debt further reduced to R542m.
What the market did not like was the jump in production costs and the uncertainty over how Harmony will maintain its newly achieved annual gold production of 1.5 million ounces, which Steenkamp reached mainly through acquiring the Moab Khotsong and Mponeng mines from AngloGold Ashanti. His new plan to maintain output is to develop three brownfield projects on its existing South African mines plus an extension to the Hidden Valley mine in PNG. It's worth noting Steenkamp's decision in 2016 to buy out partner Newcrest's stake in Hidden Valley and then invest U$175m to greatly expand the mine was widely panned by analysts at the time, but the project achieved financial payback in the June quarter last year.
That's a big positive for Steenkamp's ability to rate a project, particularly as Hidden Valley had been earmarked for closure by predecessor Graham Briggs. This has to have a bearing on Steenkamp's ongoing commitment to the much larger Wafi-Golpu - a project analysts have long maintained the group cannot afford. Anticipated first production from Wafi-Golpu has now been pushed out to 2028.
LIFE OF PETER
Steenkamp is a vastly experienced mining engineer, with some 39 years in the industry. He holds mine manager's certificates for both metal and fiery mines in addition to his benchmark BEng Mining degree. He worked at Harmony from 2003 to 2007 before moving to African Rainbow Minerals and then spending a brief spell as CEO of failed junior Pamodzi Gold - the only blot on his career copybook. After the Pamodzi debacle he became vice-president mining at Sasol and returned to Harmony as CEO in 2016. He is a member of the South African Institute of Mining and Metallurgy and was elected a vice-president of the Minerals Council South Africa in May last year.
More Rainmakers & Potstirrers