CEO: Harmony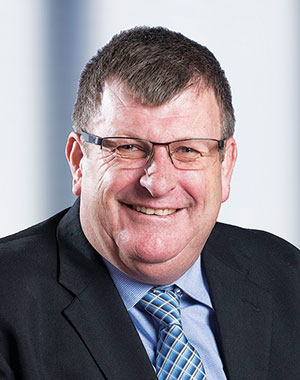 Napolean Bonaparte is alleged to have said he wanted "lucky" generals leading his armies and Steenkamp has certainly had his fair share of luck since he took over running Harmony in 2016, especially in the performance of the gold price. Gold started moving up gently just after Steenkamp signed on at Harmony. We commented in last year's Rainmakers & Potstirrers that "what's really needed to let the good times roll again at Harmony is a swift jump in the gold price".
That's precisely what happened in mid-2019 and the predictions are increasingly for gold to keep heading north. That's tantamount to a blood transfusion for Harmony, which for the past decade has been fighting a losing battle against soaring costs. The great question mark over Harmony has always been the life expectancy of its mines which can generally be summed up as "exciting but short".
Steenkamp has sought to address that in two ways: buying longer-life mines from AngloGold Ashanti such as Moab Khotsong – and possibly Mponeng which is also up for sale – and pushing ahead with development of the Wafi/Golpu copper/gold project in Papua New Guinea (PNG). In general, analysts approve of the first approach and heartily dislike the proposed move into PNG because they don't believe Harmony can afford it. But Steenkamp has been handed breathing space on that as well. Harmony had to deliver a funding plan for Wafi/Golpu by June last year but the pressure is off because of political foment in the PNG. The net result is that Harmony is being rated as a top gold share pick by some analysts because of its leverage to a rising gold price.
"HARMONY IS COMMITTED TO RECOMMENCING CONSTRUCTIVE NEGOTIATIONS WITH THE NEWLY-APPOINTED PNG GOVERNMENT AND STAKEHOLDERS."
LIFE OF PETER
He is mining engineer by training holding a BEng in mining as well as mine manager's certificates for both metal mines and fiery (coal) mines and with some 38 years' experience in the mining industry. He was senior vice president: mining for Sasol before joining Harmony in January 2016. Previous executive positions included stints at ARM and Harmony from 2003 to 2007 as well as running Pamodzi Gold – a part of his career he would probably like to forget. He's a member and past president of the Association of Mine Managers of South Africa and a member of the SA Institute of Mining and Metallurgy and the SA Colliery Managers' Association.