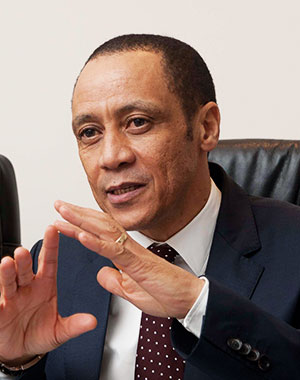 Mike

Teke
CEO: Seriti Resources
If there are opportunities that arise, we are going to diversify, definitely.
2021 will go down as a banner year for Mike Teke and team at Seriti Resources, principally for concluding the purchase of South African Energy Coal (SAEC) from diversified miner South32. Seriti can now say it's a major force in the South African coal sector, with substantial production of export coal to add to its domestic supply. But the road to deal completion for SAEC was not simple. First, the sale agreement had to be overhauled to make it more palatable to Seriti; secondly, the South African Treasury was required to support a much higher coal supply agreement from SAEC to Eskom's Duvha power station.
In addition to bedding down SAEC this year, Teke will be tasked with figuring out what to do with New Largo, a thermal coal project bought from Anglo American in 2019.Originally intended to supply coal by conveyor to Eskom's nearby Kusile power station, New Largo has been left high and dry. The project should have been commissioned years ago but was delayed, forcing Kusile to truck in alternative coal from other, more distant, suppliers. Though it is inefficient and damaging to infrastructure to do this, there's no sign Eskom is ready to sign a New Largo offtake agreement with Seriti. New Largo could export coal, but it must first overcome other barriers, including funding the mine, hurdles to environmental authorisation, and battling entrenched interests in the murky underbelly of South Africa's coal trucking sector.
Teke, meanwhile, is sowing the seeds of a new revenue line for Seriti following a joint venture agreement in December with rival coal producer Exxaro Resources that will supply Eskom with renewable power from solar PV – an initiative that will also be applied to some of Seriti's mines, thus lowering the group's own carbon footprint.
LIFE OF MIKE
Teke was born in KwaThema, Springs, in 1964, and studied teaching. He worked in human resources at Unilever SA, Bayer, BHP Billiton and Impala Platinum and completed an MBA at Unisa in 2002. In 2008, he became one of the founding shareholders and CEO of Optimum Coal Holdings, which was subsequently acquired by Glencore for a substantial sum. He then went on to found Masimong Group, one of Seriti's four shareholders. Teke, who has served as president of the Minerals Council SA, retains his interests in education through chairing the council at the University of Johannesburg.
More Rainmakers & Potstirrers