CEO: Seriti Resources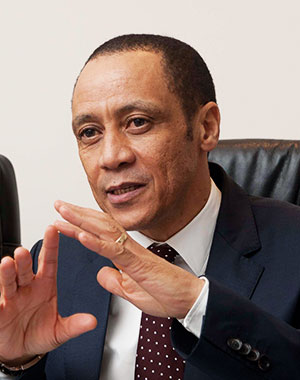 Mike Teke is set to become one of the major players in South Africa's domestic and export coal markets as he believes that this rather unpopular commodity still has a future, and is crucial to GDP development. That is turning out to be the case as export coal demand and prices rise again despite all the environmental opposition.
In 2017, he pulled off a major transaction buying all Anglo American's Eskom-dedicated coal mines for R2.3bn excluding for New Largo which holds the contract to supply Eskom's new Kusile power station. He subsequently bought New Largo for R850m early in 2018, and we think he's far from done just yet. For instance, he kicked the tyres at Optimum Coal Mine and Koornfontein before deciding not to make a solid bid. More probable, is Teke's participation in bidding for South32's South African thermal coal assets in a perfect demonstration of his business approach which can be summed up as "go big or go home".
In April 2017, he said he wanted to build "something really big in the league of Anglo" and he will soon be facing up to some massive capital raising exercises. Estimate on the capital cost of developing New Largo is some R20bn. While that will be divided between the consortium in which he is participating, he'll most probably need public capital sooner or later which begs the question as to when Seriti will list?
"I AM GOING TO LIST SERITI WITHIN AN 18- TO 24-MONTH HORIZON."
LIFE OF MIKE
Teke's background is in human resources, but he is one of the most experienced mining executives in South Africa through his career at BHP Billiton and Impala Platinum and, in particular, through his role as CEO of Optimum Coal after it was split out of BHP Billion in an empowerment transaction. He is also a former president of the Chamber of Mines and Richards Bay Coal Terminal which gives him a formidable set of qualifications in the coal sector. He is the chairperson and controlling shareholder of the Masimong group and serves on the board of the University of Johannesburg.