Chamber of Mines of South Africa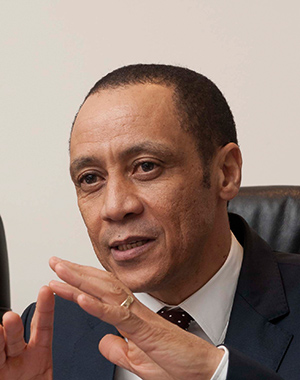 THE travails at South African power utility, Eskom, couldn't have come at a more inconvenient time for Mike Teke whose Masimong Group Holdings is a participant in the Seriti Consortium. In June, Seriti was unveiled as the successful bidder for Anglo American's Eskom-dedicated coal mines which supply about 25m tonnes annually to various power stations. But the collapse of governance and leadership at Eskom put a near complete stop to the task of transferring the coal supply agreement from Anglo to Seriti – a transaction that, though relatively simple, requires Eskom's imprimateur. There are signs, though, that the logjam is being cleared. And there's more to come: Seriti has been linked with a bid for New Largo, another of Anglo American's assets. This is a thermal coal project in South Africa's Mpumalanga province that, once developed, will supply about 12m tonnes a year to Eskom's Kusile power station, currently under construction. Far meatier than the existing colleries, New Largo will require the sort of capital that only a listing can possibly muster, thus bringing to the market a new mining group. Teke and consortium friends – Sandile Zungu and Anna Mokgokong – have big plans to diversify into other commodities and build a group in the grand tradition of Anglo American. One question they must answer is whether to buy yet more coal given South32's coal mines are in want of an empowerment partner.
LIFE OF MIKE
Teke holds a BA (Hons) and an MBA from Unisa and has served in various human resources positions at companies including Unilever, Bayer, BHP Billiton, and Impala Platinum. In 2008, he played a key role in the BEE deal which saw BHP Billiton's Optimum Colliery split off and listed separately on the Johannesburg Stock Exchange with Teke as the founding CEO. He was appointed vice-president of the Chamber of Mines in 2011 and elected Chamber president in 2013, a role he relinquished in 2017. Masimong Group Holdings was founded by Teke and former Optimum Coal colleague, Doug Gain in 2013.