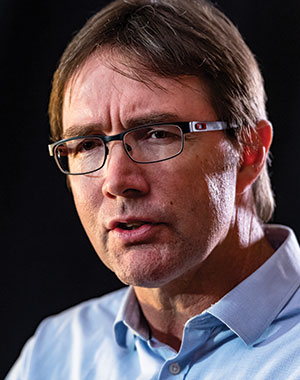 Roger

Baxter
CEO: Minerals Council South Africa
'I am aware of several multibillion-rand mining projects that will not be given the go-ahead because of issues related to crime'
"THEY should call me Frank," Roger Baxter has said on quite a few occasions, signalling his no-nonsense approach to problem-solving in South Africa's problem-laden mining sector. In 2022, with difficulties in the mining industry reaching new levels, Baxter certainly did not mince his words. Called to the podium, he frequently sketched a sombre picture for the country's sector: an industry besieged by crime, depressingly poor performances at its railways and ports, and daily power outages increasing in their severity. At a dialogue hosted by Anglo American on the sustainable development goals towards year-end, Baxter expressed grave concern over the general lack of the rule of law.
He said a procurement mafia masquerading as business forums was dissuading companies from investing in South Africa. "I am aware of several multibillion-rand mining projects that will not be given the go-ahead because of issues related to crime. Because of the criminal mafia and other factors, some companies are not prepared to go ahead with certain projects until some of these issues are resolved," he said. Institutional knowledge in South Africa's public and private sector is worth its weight in gold, and therefore Baxter's announcement that he will step down as CEO at the Minerals Council is a great loss to South African mining – an industry he has served with distinction for 30 years.
We once - many years ago now - called Baxter South African mining's conscience. With his affable and diplomatic manner, he helped navigate the sector through a decade of immense regulatory and operational uncertainty, an often-hostile operating environment and difficult economic conditions. No doubt the Minerals Council will find a suitable replacement for Baxter, but one can't shake the notion that we are weaker without him.
LIFE OF ROGER
Baxter holds an honours degree in commerce from the then University of Natal. He started working at the Chamber of Mines in 1992 for a period of seven years. In 1999, he took a one-year break to gain experience in the stockbroking industry before returning to the Chamber as chief economist. He joined Rio Tinto in 2011 but returned to the Chamber the following year. In 2014 he was appointed chief operating officer and CEO in 2015. Baxter's contract is coming to an end in April this year and he has declined to have it renewed. In his own words, he is starting a new chapter, but he hasn't ruled out a return to South Africa's mining industry in the years to come.
More Rainmakers & Potstirrers