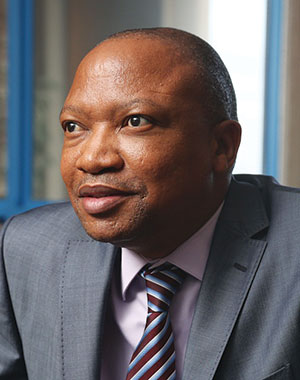 Tshokolo

Nchocho
CEO: Industrial Development Corporation
'We have embraced a cooperative, work-it-out approach with Kalagadi Manganese. I'm much more optimistic about the investment'
THERE was no time for Tshokolo 'TP' Nchocho to enjoy the turnaround in the Industrial Development Corporation's (IDC's) 2022 financial performance. Under his leadership, the IDC has gone from a loss-making entity to a R6.3bn taxed profit. But this performance, an increase in new investments, and the creation of some 20,000 new jobs, didn't quite satisfy its political master, Ebrahim Patel. The Minister of Trade, Industry and Competition publicly criticised the IDC in its 2022 annual report for not doing more to fund government's Black Industrialist Programme or to help solve the country's energy shortages.
The IDC wants to play in the green energy field through investing in exploration of battery minerals and funding manufacturing operations. To this end, two memoranda of understanding have been signed with companies in Saudi Arabia and Germany for green hydrogen projects. In the mining sector, the IDC confirmed its anchor investor status with Orion Minerals' strategically important copper projects. It provided a R250m loan to Orion's Prieska Copper Zinc Mine and took a 43.75% stake in Orion's second venture Okiep Copper Project. Both ventures are in South Africa's Northern Cape, which is acknowledged as the country's most prospective geologically.
As yet undetermined is how Nchocho intends to bring the curtain down - if at all - on its Kalagadi Manganese investment. The company has failed to achieve nameplate capacity and is unable to repay R3bn to the IDC, which sought to put Kalagadi in business rescue. One protracted court dispute later and there's still no clarity, although Nchocho is more optimistic lately. And full marks for perseverance: the IDC stuck by MC Mining, the JSE-listed coal miner and development firm which teetered on bankruptcy. The world's energy crisis is the momentum MC Mining needs to raise money for its 1.1 million-ton-a-year Makhado project in Limpopo province.
LIFE OF TSHOKOLO
Nchocho's experience in development finance and banking spans a period of more than three decades. He spent 13 years at the Development Bank of Southern Africa and close to four years at the Land and Agricultural Development Bank of South Africa in senior leadership positions. Nchocho has a BCom from the University of the North, an MBA from Unisa, an MSc in Finance and Economics from the University of London, and an Advanced Management Programme executive qualification from Harvard University. He was appointed CEO of the IDC in December 2018 on a five-year contract, which will end in 2023.
More Rainmakers & Potstirrers