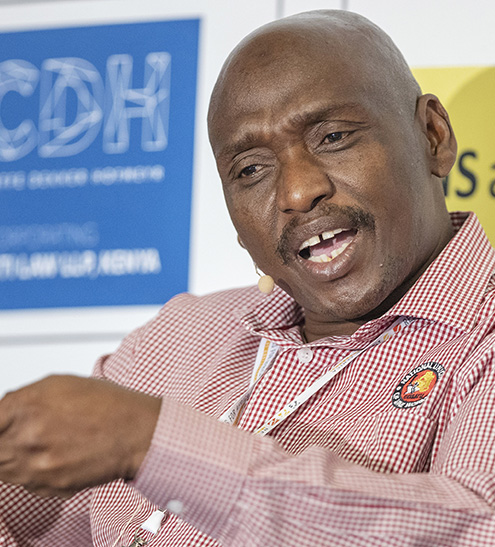 William

Mabapa
General secretary: National Union of Mineworkers
'The reality of the matter is that, whatever our members are demanding, it is what Amcu members are demanding, and so our differences don't assist the members. Our differences only assist the employer'
WILLIAM Mabapa seems to have secured a lasting peace with mining union NUM's former arch foe, the Association of Mineworkers and Construction Union (Amcu). The two unions have ceased their bitter turf war, and the over three-month strike the pair carried out in 2022 at Sibanye-Stillwater's South African gold operations was notable for its lack of violence. Sometimes acting under the informal banner 'Numco', the unions signed a number of five-year wage agreements in the platinum sector, including with Sibanye and Anglo American Platinum, without any recourse to strike action.
This unexpected development has removed one of the key risks linked to investing in South Africa's turbulent mining sector. Mabapa is a down-to-earth former platinum miner and has developed a rapport with Amcu president Joseph Mathunjwa. But NUM has displayed a militant streak in other sectors. NUM members and those linked to the National Union of Metalworkers of South Africa (Numsa) embarked on a wildcat strike and protest action over stalled wage talks at ailing power utility Eskom in 2022, and the consequences included deeper power cuts, known in South Africa as load shedding. NUM leaders like Mabapa, it must be said, did not officially sanction such action.
The upshot was that the unions managed to secure a 7% wage hike for their members at Eskom, which the state-run company can ill afford. Eskom will remain a priority for Mabapa as NUM is opposed to plans to unbundle the loss-making and unreliable company into three units. NUM is also determined to hold on to jobs in the coal sector as Eskom attempts to reduce its heavy reliance on the fossil fuel. This is an area to watch as it contains the seeds of future labour flashpoints.
LIFE OF WILLIAM
A former platinum miner, Mabapa worked his way up the NUM ranks. He became deputy general secretary in 2015 and assumed the acting role in the top spot at the end of 2020, when general secretary David Sipunzi died suddenly. Mabapa has an earthy demeanour and speaks his mind. Focused on union issues, he seems to take far less interest in the politics of South Africa's governing alliance than some of his predecessors.
More Rainmakers & Potstirrers