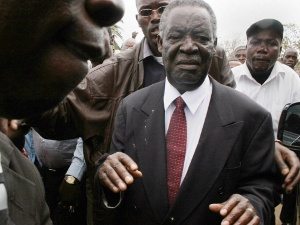 [miningmx.com] – THE death of Zambian president Michael Sata, 77, at a hospital in London yesterday, would result in a by-election in 90 days that would stall all government business and could disrupt key cargo routes for copper exports.
Principal Africa analyst at IHS, Robert Besseling, said in a note that violence between partisan supporters and security forces was also a possibility.
Sata, who was elected to power in 2011 after long campaigning for the post, died shortly after 11pm on Tuesday at London's King Edward VII hospital, the cabinet secretary Roland Msiska said in a statement.
"President Sata's demise is deeply regretted. During this difficult period, I urge all of you to remain calm, united and peaceful,' the statement read.
Under Zambia's constitution the country will have to hold an election for a new leader within 90 days of the death of the president, said Besseling.
"Over the next 90 days, ahead of a presidential by-election, all government business will be stalled," he said. A leadership tussle within the Patriotic Front (PF), that Sata led, could result in violence, especially in Lusaka and the copperbelt.
"Disruption to key cargo routes for copper exports (including from neighbouring DRC) to Botswana and Zimbabwe face is likely, although damage to mine property is unlikely," said Besseling who added there was a "moderate" risk of contract renegotiation once Sata's successor was nominated.
Glencore operates Mopani Copper Mines in Zambia while First Quantum Minerals, African Rainbow Minerals, and Vedanta also operate copper operations in the country.
There was a chance that under the leadership of PF contenders, Wynter Kabimba, former defence minister and current PF secretary general, or PF party secretary-general, Edgar Lungu, Sata's interventionist polices in the copper sector might be reversed.
These included the banning of VAT payments which has led to Glencore downscaling operations while First Quantum Minerals said it would curb expansion.
Barrick Gold also said recently that plans by Zambia to increase royalties payable by mining firms would threaten the viability of its Lumwana mine.
This was after Zambian finance minister, Alexander Chikwanda, said higher royalties would replace corporate income taxes for mines. In terms of the proposal, the current 6% royalty for all mines would rise to 8% for underground mines and 20% for open-pit operations.
The main opposition parties to the PF is the Movement for Multi-Party Democracy (MMD) led by former vice president Nevers Mumba and the United Party for National Development (UPND) led by Hakainde Hichilema.
"A victory by the MMD or UPND would severely increase revision and cancellation risks for contracts signed by Sata," said Besseling.
"Mining companies with poor relations with the MMD or UPND would also face risk of contract revision," said Besseling.