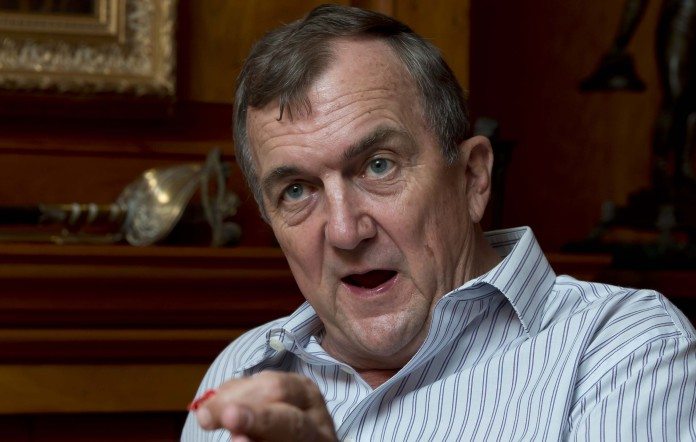 RANDGOLD Resources CEO, Mark Bristow, does not mince his words and his reaction to the 7.5% drop in the Randgold share price on Monday, the day the group announced a doubling of its annual dividend to $2 a share, is unprintable.
The expurgated version is that Bristow describes the market reaction as "pathetic" and "disappointing". He attributed the plunge to shareholders on the London and New York stock exchanges panicking over the bad news coming out of the Democratic Republic of Congo on the new mining code.
Bristow in his results presentation on Monday had told investors that the debate on the mining code "was not over yet", and had pointed out the impact on Randgold's Kibali mine was "relatively benign as we stand today". The main mines at risk from the new code are the Katanga copper producers.
Said Bristow: "One of the big embedded changes is an increase in royalty to 4.5% which Kibali is already paying under duress. The state already owns 10% of Kibali which is what is proposed; they have not changed the tax rate of 30%; they have introduced a windfall tax but if you look at the year we made the decision to invest in Kibali the gold price was about $1,600/oz average so that would not trigger any excess taxes for Kibali."
On the positive side Bristow pointed out this was one of the rare opportunities for investors to get into Randgold stock.
He commented: "People are always complaining that this is an expensive stock. I have always told them that if you follow us carefully – and you want to be a shareholder – you can get in at a reasonable time because, given the vagaries of Africa, there's always some bad piece of news that will affect our stock price over time.
"The key here is that you have to be clear in your head – have we done anything that materially impacts on the value of our company? The answer is no."
HEART SURGERY
Scrapping with politicians and regulators in the DRC has not been Bristow's only travail over the past few months. In November last year he underwent full open heart surgery to replace an aortic valve.
Bristow is now 59 and the obvious question after major surgery like that is whether it has affected his appetite to keep running Randgold with the commitment he was shown since starting the company more than 20 years ago.
He said he was still as fit and active as ever and had no intention of stepping down anytime soon, but noted he had addressed the issue of his succession. "I have not set a deadline, but I have accepted the principle of departing. I do not want to be the CEO at 65, and I do not want to be chairman.
"We have a succession plan well underway. Three years ago the succession risk was identified and we set out to plan for it. The first stage was to deepen our organisation and ensure we had succession visible down to the second level in the operational heads of department," he said.
That was followed by an anonymous, in-house peer assessment process which has identified five executives who could run the organisation in future. Bristow said he had written to each of those executives individually.
Further developments – such as follow-up interviews and more training if required to rectify identified potential weaknesses – are being looked after by the Randgold chairman and senior independent director.