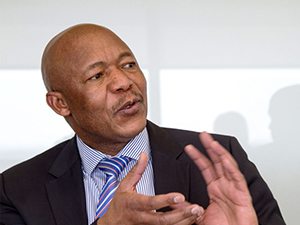 [miningmx.com] – SOUTH Africa's Public Investment Corporation (PIC), a state-owned pension fund, could lift its stake in Lonmin to 25% should circumstances require it to exercise its decision to sub-underwrite a $408m rights offer.
In an interview with Afrikaans-medium newspaper, Rapport, CEO of the PIC, Daniel Matjila, said the corporation had agreed to underwrite up to 25% of the rights offer including following its rights as per its 7% stake in the company.
Previously, the PIC's potential exposure to Lonmin had not been disclosed with Lonmin CEO, Ben Magara, saying as recently as November 13 that the PIC had agreed to take a substantial stake in his business in the event of sub-underwiting the rights offer.
"The PIC will be underwriting its portion of the shares acquired through the rights issue. The PIC has further agreed to underwrite up to 25% of the total capital raise only in the event that there is no full subscription to the rights issue," Matjila told Rapport.
"We have already expressed our view to Lonmin that the cost of the rights issue is high and have been informed that these include rolling the debt with banks, advisory on rights together with underwriting fees," he said.
Last week, Magara dismissed speculation that the PIC was having second thoughts about committing to the recapitalisation of Lonmin.
Asked if the PIC would still vote in terms of its 7% stake in Lonmin, Magara gave a resounding "Yes". He said the PIC was "a deep and a long-term investor".
The PIC had offered to sub-underwrite the rights issue (the broking businesses of JPMorgan, HSBC, and Standard Bank are the main under-writers), but they would not end up controlling Lonmin, said Magara.
Matjila said the decision to support Lonmin's capital raising exercise was informed by its view it was the best approach "in the current circumstances".
"Not supporting Lonmin would put the company at risk and it could potentially be harmful to the industry and the communities where Lonmin operates as well as the economy at large," said Matjila.
Shareholders in Lonmin will decide at a general meeting on November 19 whether the rights issue will proceed at all. Should shareholders vote against it, some 10 banks would not agree to extending dollar- and rand-denominated bonds to 2020 from the current due date of 2016.
This may well force Lonmin into bankruptcy. The firm said in the prospectus ahead of the rights issue that it may not have sufficient funds to keep operating to the year-end. Shares in Lonmin have fallen more than 35% in the past week.
Barclays Capital analyst, Andrew Byrne, issued an updated note on November 13 in which he said the problem with Lonmin's business plan – which sets down proposals for lower production and cost-cutting, is that it will still be cash flow negative at current spot prices.
"Our high-level review of Lonmin's business plan (which is more aggressive than market guidance in terms of production, opex and capex) suggests that at spot prices and FX, the company is likely to remain cashflow negative for the foreseeable future and generate $385m of cashflow losses," he said.
"Assuming normal operational challenges and productivity targets not being achieved, we expect this figure to be closer to $575m in reality, leaving the company's production base impaired with sustainable production of less than 500,000 ounces."
Magara said, however, the firm's business plan would make the company profitable without the need for an increase in the platinum price.
It is thought that Lonmin's business plan has assumed lower prices than spot for platinum, although Magara would not confirm this.
The platinum price was last trading at $858/oz, down from $876/oz previously. In rand terms, the platinum price is at R12,333/oz which compares to a cost of production per PGM ounce for Lomin's 2015 financial year of R10,339, down 23.7% from R13,538 for its 2014 financial year.
Said Magara of the firm's business plan: "I think the price [of platinum] may be under pressure for three years. We have not planned for a recovery. We will be cash flow neutral at worst after capital expenditure".