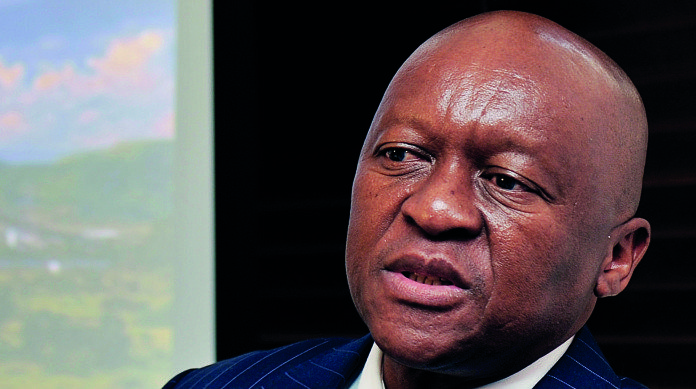 ROYAL Bafokeng Platinum (RBPlat) bounced back into profit owing to an improvement in the rand basket price of its platinum group metals (PGMs), but warned that a section of its flagship Bafokeng Rasimone Platinum Mine (BRPM) was under review.
Steve Phiri, CEO of RBPlat said a review of the cost structure at south shaft at BRPM was underway with results of the study likely to be published at the end of the second quarter of this year. "We have got to do a balancing act," said Phiri at a presentation in Johannesburg today. "We need to manage the section's costs and improve the margin," he said.
Owing to the depletion of BRPM, there had been an increase in the amount of UG2 ore mined from South Shaft versus Merensky ore which is higher grade and produces a better margin. "We have an idea of what we want to do," said Phiri, adding that it didn't make sense to shut the shaft and then encounter ramp-up issues at Styldrift I.
On average the UG2 grades at BRPM improved by 3.4% year-on-year, while the Merensky tonnes delivered from BRPM declined by 1.4%, RBPlat said in notes to its published results.
RBPlat had earlier delayed the ramp-up of Styldrift I as it sought to sit-out a steep decline in platinum prices which it felt would eventually hurt the viability of the project, but it was a decision that was put under the microscope today.
Leon Esterhuizen, an analyst from Nedbank Securities, said the ramp-up of Styldrift had been left too late such that BRPM was not as cash generative therefore it wouldn't be able to fund Styldrift I as effectively.
Phiri responded by saying it was decision of either "the devil and the deep blue sea". He added that delaying Styldrift I was "not the best decision ever", but that he didn't want to contribute to a market over-supply.
"If we hadn't done this we would have had a terrible balance sheet which would have removed our flexibility and made it difficult to speak to the bankers," said Phiri.
Martin Prinsloo, CFO of RBPlat, said the company had R1.5bn in funding available for Styldrift and was negotiating a R2bn funding package with lenders. It would also consider other "capital market" solutions, referring to a share issue – a long standing question regarding RBPlat.
The company also said the cost of its expansion project, Styldrift I, had increased R500m to R11bn as a result of certain cost escalations following the project's deferral. After slowing Styldrift at the beginning of 2016, RBPlat decided in August to press ahead with the project committing to spending the R4bn to R5bn required for its completion.
The capital number on Styldrift I was also affected by rand weakness against the euro which resulted in machinery cost inflation. Costs were also increased owing to mine design changes adopted to accommodate safety standards, and a cost plus strategy undertaken with Shaft Sinkers, its former contractor, which ran into financial difficulties.
On the positive side, however, RBPlat said it had financed about 74% of Styldrift I from cash flow generated by BRPM and on-reef development at Styldrift compared to 30% of the project costs incurred in the 2015 financial year.
STOPPAGES
PGM (4E) production in 2016 was 9.4% higher at some 304,000 ounces while unit cash costs were 7.8% higher at R15,639/oz.
RBPlat's net cash flow fell to R585.5m (2015: 619.2m). Cash on hand fell to R835m (2015: R917.6m).
RBPlat's full-year share earnings came in a 87 cents per share, a 170c/share turnaround from the 83c per share loss of the 2015 financial year. The company warned however that business conditions remained difficult and that the company would react swiftly, especially if there was a deterioration or improvement.
"Our business is very sensitive to the movement of the rand against the US dollar which can have a negative or positive impact on our rand basket price," the company said in commentary to its year-end figures.
During the year, the dollar price of platinum fell 6.2% averaging $988/oz but this was more than offset by a weaker rand with helped the rand platinum price to an average of R14,480/oz, an 8.6% improvement year-on-year.
Phiri said safety related stoppages had fallen in 2016 compared to 2015 but still noted "a spike" in downtime "… which did not seem to be aligned with the applicable non-conformance". The outcome was a loss of 17 production shifts equal to 7,000 oz of platinum.