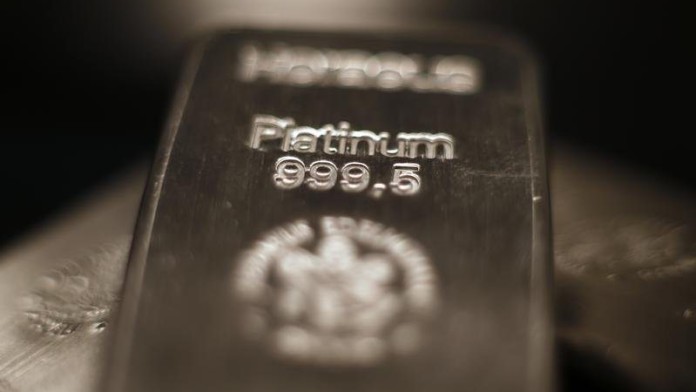 SOUTH African platinum supply would increase by up to 400,000 ounces per year by 2021, said Goldman Sachs in a note which may worry investors in Sibanye Gold and Northam Platinum which have bet on an improvement in prices.
The two Johannesburg-listed companies have collectively committed R45bn in platinum industry investment on the premise that demand for platinum will improve over the medium-term.
Northam is mid-steam a R7bn investment programme in which it is building new production and extending the life of its existing asset, Zondereinde, whilst adding new prospects in Eland Platinum. Sibanye has invested R8.5bn establishing a beachhead in the platinum sector and, assuming it wins shareholder approval for the transaction, will spend a further R30bn buying Stillwater, a North American palladium and platinum producer.
Goldman Sachs, however, updated its view on the platinum market today in a note that said it remained bearish on the sector, although it did upgrade the outlook for platinum and palladium on the basis that the marginal cost of production was set in rands which would imply a higher dollar price for the metal.
But the UK bank is unmoved on the fundamentals of the platinum sector which it said was the only market in its research coverage that was spending more to increase production. Northam Platinum, Platinum Group Metals, and Royal Bafokeng Platinum – which today provided details of a R1.2bn corporate bond for its Styldrift I project – is outside the coverage of Goldman Sachs.
Platinum bulls have argued that the lower platinum group metal prices over the last few years has already seen a cut in capex, and that supply will inevitably drop, but Goldman Sachs said that while the cuts in expenditure had been made, they were insufficient.
"While capex levels in the PGM industry have fallen we believe they have not fallen enough, especially from their peak levels," it said. "Commodities like iron ore and aluminium, which have been in a significant surplus similar to the one in platinum, have seen capex fall significantly and little to investment in new projects.
"PGM is the only industry is our coverage where we expect capex over the next four years to increase. Capex going up means new supply," it said.
Between 300,000 to 400,000 oz of new annual production was likely while platinum demand would be flat, if not in decline, it added.
Anglo American Platinum would be one of the few companies that would be cash flow positive but it was unlikely to return any dividends which is one of the reasons Goldman Sachs is negative on platinum equities. As for Lonmin, it had no cost levers left to pull, and that it would burn some $200m in cash over the next year increasing the likelihood of another capital call.
Lonmin raised just over $400m in a rights issue at the end of 2015 which was the third time it had tapped shareholders for funds. The company is sticking to output of 700,000 ounces of platinum this year despite complaining of absenteeism, while its efforts to restructure the business had not yet fully delivered.
In addition to poor market prices for platinum, the South African sector had also suffered the effects of above-inflation cost increases of some 14% in rand terms on a compound annual growth rate between 1998 and 2016.
"This significant increase in costs has been a function of consistently above-inflation wage hikes; the recent double-digit electricity price inflation, and more recently, even though the industry is making minimal profits/free cash flow, the AMCU (Association of Mineworkers & Construction Union) has bargained for more substantial wage hikes," it said.
Goldman Sachs moved Amplats to a sell and kept Lonmin at a sell. It was neutral on Impala Platinum.