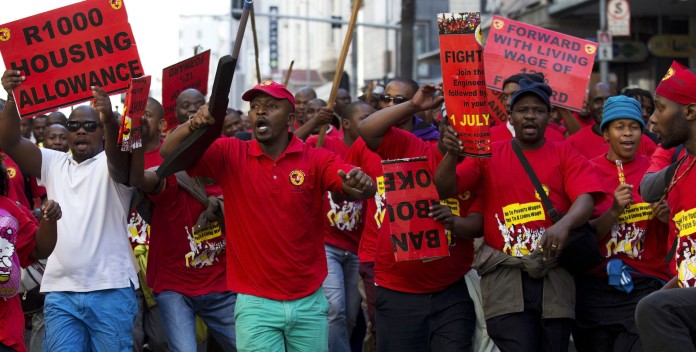 SIBANYE-Stillwater avoided strike action at its Kroondal platinum mine after agreeing a three-year wage agreement with unions which it said was an average escalation of 7% in the operation's salary bill.
On October 9, the National Union of Mineworkers (NUM) said it would start arbitration proceedings on November 2 after wage talks at Kroondal were deadlocked. It said it would "never accept Sibanye Stillwater's "insult wage increase" of 5.5% and R750″.
"It was pleasing to note the acceptance of the wage agreement by all the unions namely the Association of Mineworkers and Construction Union (AMCU), the NUM and Solidarity," said Neal Froneman, CEO of Sibanye-Stillwater in an announcement today.
The agreement is effective from July1 and includes a R1,000 per month increase year-on-year for the next three years for category B employees – the lower category – with inflation related increases for the next three years for category A employees, the company said.
Medical aid subsidies will also increase from R300 by R50 per month year on year for three years for category A and B employees. "The increase represents an average escalation of about 7% in the wage bill for the Kroondal operations," said Sibanye-Stillwater.
"These unions have acted in the interest of their members to protect jobs and at the same time considered the sustainable future of the Kroondal operations," said Froneman.
Kroondal, which was formerly owned by Aquarius Platinum until it was bought by Sibanye-Stillwater in 2016, last settled wages three years ago in which it agreed an average increase slightly above the increase in the cost of living as measured by the consumer price index (which was about 6.7% at the time).
Sibanye-Stillwater's platinum group metal operations have performed well this year. Commenting in August, the company said PGM production from its South African mines would be about 590,000 ounces – near the upper end of its guidance – which would help it meet an average operating cost of about R10,400/4E oz.
Kroondal contributed about 19% of this production. In the last six months, Kroondal's operating profit was R138.4million which is approximately 30% of the South African region.