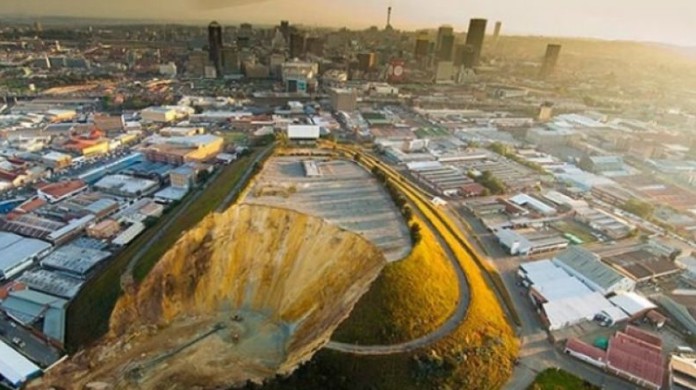 FIFI has just been on the phone to her daughter, Lala, who's wished her mother a happy wedding anniversary. But she can't talk long: Lala is busy, she's been promoted – a development that fills Fifi with pride.
Who would have thought, a mechanical engineer for a daughter. Lala is dismissive. "It's the 21st century," she opines. "Women can do the same jobs as men can do," she says. "Here at Anglo American, women also get promoted into key positions."
If that sounds like fairly blunt propaganda, it's worth pointing out that this happens to an excerpt from a skillfully spun radio script produced for Anglo American's community outreach programme called 'Makarapa City'.
Played to about nine million listeners, the programme aired on six radio stations in eight languages to people throughout the country living near the properties of Anglo Coal, Kumba Iron Ore and Anglo American Platinum.
Pranill Ramchander, head of Anglo American's corporate communications, said Makarapa City – named after the mining hardhat which now has wide cultural recognition in South Africa – was an experiment in corporate branding and communication that turned into a massively successful form of edutainment.
"We were struggling to talk about ourselves, especially when a lot of things happened in our space," said said. "After our restructuring – Anglo is in the process of selling its coal and iron ore assets – a trust deficit started to grow as morale fell.
"We needed to find ways of strengthening our brand," he said.
"Let's not bluff ourselves: we do want acknowledgement in the communities for the work we do and to counter the negative comments. But we also ultimately wanted to change behaviours. We thought Makarapa City might be a long-shot, but now we think there is an opportunity for this thing to grow legs," he said.
As far as the drama goes, the narrative details the life of a feuding family torn apart by the secret life of their patriarch, 'JB', described by the programme's originators as "an old school man". He's also juggling two families: one with his wife Fifi, and the other, a secret long-term affair with his mistress, Dolly.
It's disarmingly addictive stuff.
Just as Fifi puts the phone down, JB, returns home from a day at the mine.
Fifi: JB, I've just been on the phone with Lala.
JB: Oh. When is she coming home?
Fifi: You know your daughter. Her job is her life …. Dinner's ready.
JB: Hey Fif, what the heck is all this …. Candles! Did someone die?
Fifi: Oh my love, don't be silly. I thought since it was our anniversary, we could just ….
JB: Oh yes, 20 years … Pass the salt.
Fifi: 26 years JB.
JB: Hey Fifi. What are you wearing? Get that necklace in my sock drawer?
Fifi: Oh JB. I love it, but we can't afford this.
JB: There you go again.
Fifi: JB, I cannot take one more phone call from the debt collectors.
JB: I told you before, I've got everything under control.
Fifi: You know the mine is offering debt counselling to employees. I think we should do it.
JB: In future, leave the thinking to me.
Fifi: I don't want to fight.
JB: Then stop blathering. Just blah, blah, blah. Haai man!
JB's mobile phone then rings and he leaves the room to answer it in the bathroom. That's because Dolly has called – presumably for whom the necklace was originally intended. As many mineworkers on South Africa's mines know, running two families is costly.
That's where the social function of Makarapa City comes in.
Speaking at the Jo'burg Indaba mining conference in September, former AngloGold Ashanti CEO, Bobby Godsell, called on the mining sector to acknowledge that the so-called 'living out allowance' provided to miners as part of their salary packages, had not worked.
That's because the large portion of migrant workers still working on South Africa's mines tend to keep the allowance for things other than the maintenance of the family in the labour-sending areas in favour of their own personal use.
As demonstrated in the aftermath of the Marikana atrocity, in which 34 miners were shot dead by police during a wage protest, many mining employees opt to live in the nearby mine shanties rather than dip into their allowances.
In fact, one reason for Marikana's plethora of informal settlements was that 60% of all workers chose living out allowances. (It's also worth recalling that the allowances were introduced by the mining companies at the instigation of the National Union of Mineworkers, not from top down).
So JB's reluctance to hear argument on debt counselling services resonates. So do many of the other themes played out in Makarapa City which, after its first season, proved so popular that a second was produced.
In an effort to gauge community engagement, the radio presenters sought feedback – a call to action – by posing questions with a R500 shopping voucher as the incentive. There were 60,000 entries in the first season with a 90% 'pass' rate suggesting strong engagement, said Ramchander.
GOVERNMENT BULLYING
THE mining industry's housing and living conditions are regulated by no fewer than four separate and distinct policy documents specifying different conditions including the Mining Charter, the Housing and Living Conditions Standards, the Social and Labour Plan guidelines and the Mining Code of Good Practice.
Analysts think that combining the documents into a single regulatory framework might be a good place to start clarifying the responsibilities of mines and Government, but for now looking after communities lies squarely in the lap of the mining firms especially as many municipalities are in disarray. Rustenburg for instance has received qualified municipal audits every year as far back as 2008.
And yet as demonstrated with the recent emergence of draft amendments to the Mining Charter, Government is increasingly seeking to penalise the mining sector. For instance, the new charter has proposed a 1% levy on mining company revenue over two years for community development. Whilst the notion of investing in community development is front and centre for the mining sector, the mechanism is all wrong: hitting revenue is likely to speed up the closure of certain mines in economically difficult times.
There's also a growing sense that the mining sector is not receiving much acknowledgement, particularly from Government, for the work it has done. According to Charmane Russell, spokeswoman for the Chamber of Mines, South Africa mines have been significantly transformed as places of work over the last 10 years.
"In respect of real lives of employees, there is not a single mine residence that has not been converted to single room dwellings," she said. "There are many more families on mines, and more rental and bought accommodation, but that doesn't mean that all employees are living well or better.
"The issue of informal settlements and living out allowances is well known," she said.
Mining earnings have continued to rise and miners now earn significantly more than most in South Africa. The issue of whether the earnings are actually fair is "a complex question" however, said Russell. "We do know that a huge amount of time and energy and effort has been spent on dealing with indebtedness and that employees should be taking home more.
"Much more effort has gone into training and development, and transformation. A few years ago, a shortage of skills was a critical risk factor for the South African mining industry," she said. "This is not the case today, and not just because of job losses.
"But job losses are real, and continue," she said.
THE SCOURGE OF SECTION 54s
PERHAPS the key talking point in respect of South African mining and its employees and communities must be that of health and safety, especially fatalities which fell again to a record low of 73 in 2016 – an outcome for which Government claims to be responsible.
Speaking to Reuters, mines minister, Mosebenzi Zwane, said the improvement was the fruit of a "government crackdown", a reference to Section 52s, a clause in the Mine and Health Safety Act (MHSA) that permits the Department of Mineral Resources to shut mines in the event of a safety transgression.
A report by the Chamber of Mines last year estimated that Section 52s cost the mining sector R4.84bn in lost revenue in 2015 whilst the revenue loss between 2012 and 2015 – a period in which fatalities on South African mines that report to the chamber declined about 44% – totalled R13.63bn.
Ominously, the use of Section 54s increased last year which eventually provoked a response from Sibanye Gold and AngloGold Ashanti which have taken the DMR to the Labour Court. A judgement against the DMR showed that it had not demonstrated proportionality when it closed AngloGold's Kopanang mine; in other words the department should have issued a Section 55 which shuts only part of a mine affected by a safety problem. As for Sibanye, it is suing Zwane and his colleagues in their capacities as Government officers some R28m in damages.
While Zwane argues Government action has had a positive effect, data from a Chamber of Mines study shows that fatalities have been declining for far longer than the relative recent phenomenon of Section 54s.
The shocking 600 lives that were lost in South Africa's mining sector in 1993 – with 426 deaths in the gold sector alone – had halved six years later, and had more than halved again by 2010 to 127. In fact, the industry reduced fatalities for eight consecutive years since 2007, the chamber said.
Even from an international perspective, South Africa is becoming competitive in its safety performance. On the basis of fatality rates as per million hours, the South African mining sector reported 0.08 compared to 0.30 in 2003. The comparison with Canada, for instance, is pretty good: it's fatality rate in mining per million hours was 0.10 in 2015 compared to 0.06 in 2003.
On the ground, far from the desktop studies and the data, there are still problems and challenges communicating with employees and the communities.
In a follow-up study to Makarapa City commissioned by Anglo, research house Millward Brown found that communities were not entirely sure why Anglo American had bothered with the programme. "The young – aged between 20 and 34 years) who are Anglo American employees were disbelieving that Anglo American sponsored an South African drama. The company is American: why the interest in the South African community," said Millward Brown.
Ramchander said Amplats was now developing its own actuality programme following the success of Makarapa City whilst there's also a plan to get the firm's managers on radio in order to respond to community issues and problems. It's necessary as Anglo seeks to its improve line of sight between officer dwellers and the increasingly ambitious and questioning community.
As the hitherto silent Dolly says to JB in an effort to pressure him away from his family: "I was born in a shack. I'm not going to die in one".