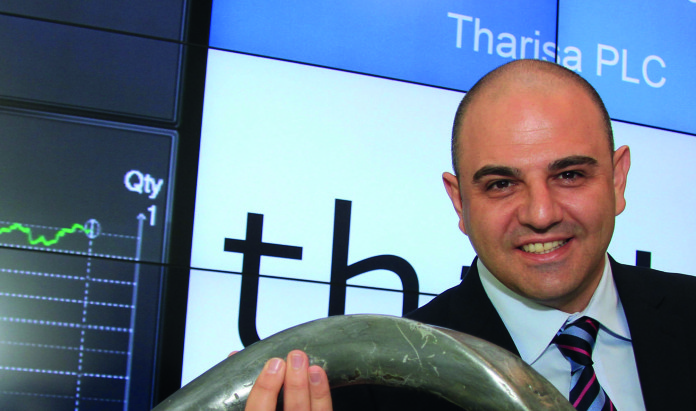 SHARES in Tharisa, a chrome and platinum producer, were over 6% higher on the Johannesburg Stock Exchange today after the company filed interim figures in which headline share earnings came in at 16 US cents per share versus a cent per share in the corresponding period of the 2016 financial year.
The performance was inspired by the improvement in chrome prices earlier this year although Tharisa's realised price of $268.9 per tonne was below spot which reached as high as $390/t during the period.
Chrome has since softened and Phoevos Pouroulis, CEO of Tharisa, warned in a conference call today that there would be a reduction in group margin, although production from the Tharisa mine would increase in the second half of the year.
Tharisa has guided to chrome production of 1.3 million tonnes for the full-year. This was a  "base case" with output likely to be higher, said Pouroulis. Platinum group metal (PGM) output is estimated to be 147,000 refined ounces. Output in the 2016 financial year was 1.24 million tonnes in chrome concentrate and 133,000 in PGM ounces.
There was an increase in costs per tonne as the stripping ratio at the Tharisa mine – situated about 35 kilometres east of Rustenburg in South Africa's North West province – approached the open pit average.
The market for chrome also remained volatile whilst PGMs, especially platinum, has been uninspiring with Tharisa basing its forecasts on a flat platinum price amid a "minimal" supply deficit. "There has been a market decline [in the chrome price] and we think the price was overdone, but now there's room for a more stable price," he said.
Nonetheless, the performance was a demonstration of Tharisa's investor appeal, especially when the chrome price runs. Converting all production to platinum equivalent ounces, Tharisa had a negative all in cost of $1,123/oz, the company said. Net cash flow from operating activities increased to $44.2m from $18.2m previously which helped Tharisa make significant in-roads into net debt which fell to $7m from $41.4m previously.
This in turn has given Tharisa the confidence to become an owner-operator following an agreement in April with contractor, MCC Contracts Proprietary to buy its fleet of yellow machinery in a transaction totalling $26.8m including $6.3m imputed to the cessation of the lease agreement.
Some $18.3m in cash will be used to settle the consideration which Pouroulis said was far cheaper than buying the fleet as new – estimated to be $135m. The fleet, which includes 153 items – is halfway through its useful life. "This gives us a low cost entry to the owner-operator model," said Pouroulis.
Pouroulis said there was "scope" for organic growth at the Tharisa pit, which has an 18-year life of mine with potential to mine underground for another 40 years.