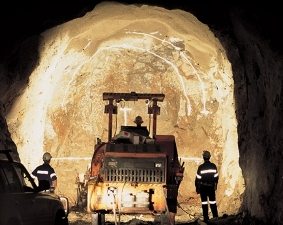 [miningmx.com] – WITH ballots from more than half the constituencies counted, Zambia is on course for retaining the Patriotic Front as its government which virtually guarantees an increase in royalties on mining.
Bloomberg News reported that Edgar Lungu, leader of the Patriotic Front, had 50.1% of the vote compared to 45.2% won by Zambia's main opposition party, the United Party for National Development (UPND), led by 50-year old economist, Hakainde Hichilema.
According to observers from the Southern African Development Community, the election was "peaceful, transparent, credible, free, and fair,'. This was despite claims of violence and intimidation while heavy rains also interrupted the election process.
Lungu, who follows the late Michael Sata as leader of the Patriotic Front, said he was supportive of previous plans to ditch a 30% corporate tax in favour of an increase in royalties to 8% and 20% for underground and open pit mines respectively compared to a flat 6% previously. The new charges would net Zambia $270m next year.
More recently, however, he has said he would discuss the matter with mining companies in the country. The general consensus of Hichilema, however, is that he's more business friendly, but as IHS economist, Robert Besseling observes, a victory for the UPND would not hard-code stability as it would increase the risk of fresh contract reviews, as has previously happened when power has transferred".
The Zambian Chamber of Mines contends half the country's copper mines lose money under the new royalty system whilst Barrick Gold has put its 120,000 tonnes/year Lumwana copper mine on care and maintenance.
Zambia produced 760,000 tonnes of mined copper in 2014, equal to about 4.1% of global output, and is set to increase this to just under one million tonnes in 2015 as First Quantum Minerals ramps up its Kansanshi and Sentinel projects.