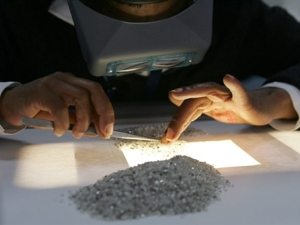 [miningmx.com] – A DRAMATIC slide in the price for diamonds akin to the liquidations in copper, oil and iron ore was unlikely, said analysts who rated De Beers a defensive business for Anglo American while weakness in the shares of Petra Diamonds and GEM Diamonds represented buying opportunities.
"De Beers offers some defensive quality," said Macquarie Research which added that Anglo American would record strong earnings growth and free cash flow generation in its 2016 financial year.
Said Investec Securities: "We continue to see the diamond sector as a key area of excitement during 2015 as compelling fundamentals should result in upward price pressure for rough diamonds".
"The diamond industry did not over-invest in capacity over the last decade and, in our view, is set to benefit from growing demand and from fundamental changes to the structure of the industry," said Investec's UK team of Hunter Hillcoat, Marc Elliott and Jeremy Wrathall.
"2015 may turn out to be a rewarding year for shareholders as companies focus on returns rather than growth. Along with Anglo American, we remain buyers of Petra Diamonds and Gemfields," the analysts said.
Petra Diamonds somewhat disappointed investors with a modest maiden 2 pence per share interim dividend earlier this week – a development suggestive that the rough diamond market's December quarter weakness was a cause for concern.
However, Clifford Elphick, CEO of GEM Diamonds, which also plans a maiden dividend, due to be announced in March, decided not to downgrade the outlook for his firm's future diamond prices. He told Bloomberg News the market had been "spooked" by the closure of the Antwerp Diamond Bank, a business unit of KBC Groep NV.
Rough diamond prices fell 6.9% in the last three months of 2014, the steepest drop since the second quarter of 2012, said Bloomberg News citing data from WWW International Diamond Consultants. Prices for rough diamonds had increased about 30% in the past five years, it said.
"There's been some liquidity issues in the diamond arena with the closing of the Antwerp Diamond Bank which was a major financier of diamond traders in Antwerp. The net effect is that it has spooked the market a little bit,' said Elphick.
He added that the market was due for some "slight weakness", but that price declines may have been overdone – a view supported by BMO Capital Markets which said in a January 19 report that the pullback in diamond prices would be short-lived.
"Both polished and rough diamond prices are contracting at present, although this is more a product of reduced liquidity in the cutting and polishing centres than it is of the structural oversupply that exists in oil or iron ore," said BMO Capital Markets.
It added that diamonds were not "a shortable commodity, unlike oil or copper".