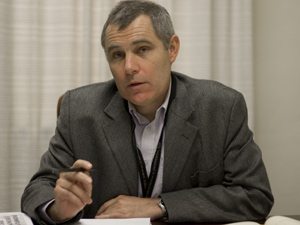 [miningmx.com] – SOUTH Africa's diamond industry is shrinking to alarming levels and nothing is being done by the country's government to nurse it back to health again.
South Africa's largest diamond cutting and polishing company, Zlotowski's Diamond Cutting Works, recently announced that it intended closing its doors.
The company has operated primarily in Johannesburg with another branch in Newcastle in KwaZulu-Natal province, and is a subsidiary of the Hong Kong-based firm Chow Tai Fook – considered to be a global giant among the listed jewellery companies.
James Lorimer, the DA's shadow minister of mineral resources who represents his party on the parliamentary mining oversight committee called Zlotowski's closure "a catastrophe".
"The number of cutters and polishers in the country used to be about 4 500, but with the closure of Zlotowski only about 200 remain," he said, adding that legislative and rigid operating environments are making it extremely difficult for players in the diamond industry to survive.
"The red tape and lack of government understanding and willingness to work with the industry is absolutely startling," said Lorimer.
"The most interesting thing is there's not a single representative of the cutting and polished diamond companies on the South African Diamond & Precious Metals Regulator."
According to Lorimer the Diamond Act, which stated that South African diamond mines need to make 10% of their run of production available to local beneficiators, has "almost completely destroyed" beneficiation in diamonds.
Ernie Blom, President of the World Federation of Diamond Bourses and chairman of the Diamond Dealers Club of South Africa, told Miningmx there were a few contributing factors that have led to the shrinking of South Africa's diamond industry.
"There is no more consistent supply of diamonds since De Beers sold most of its South African operations," he said. "Iinstead diamonds are sold on tender and companies, such as Zlotowski don't have security of supply."
Blom also cited South Africa's high cost per carat, compared to countries, such as India and China, as a growth inhibiter. "We're losing market share because of the high cutting costs, because of the high cost of labour and lower productivity."
The high export costs are also weighing heavily on the industry, said Blom. "Our polishers want to export to the rest of Africa, but the costs are so high and prohibitive that countries, like Botswana, Namibia and Zambia, which like to buy from us, are forced to approach other countries."
Government's beneficiation policy is, therefore, inhibiting trade opportunities for South African role players, but Blom argued that the diamond tourism industry has also been dealt a blow by the stricter visa regulations.
"We used to have tourists from China and India, but those numbers have dropped dramatically.
"It's going to lead to further closures of polished diamond companies that specifically deal with the tourist trade. I wrote to the minister, but to date nothing has been done."
Former mines minister Susan Shabangu said in a previous budget speech that the Department of Mineral Resources was aware of the dampening effect legislation had on the industry and said her department was going to address the legislative inadequacies.
Nothing has been forthcoming, though. A departmental official, Ayanda Shezi, told Miningmx in an e-mail that concerns from the industry would be addressed at a Diamond Indaba, which will take place on 27 October at the Sandton Convention Centre.