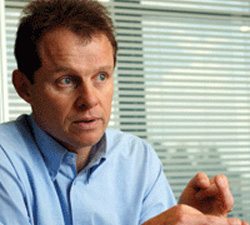 [miningmx.com] – ROCKWELL Diamonds CEO, James Campbell, promised to make the company's 2014 financial year one of delivery after selling and mothballing the company's loss-making assets, the Klipdam and Tirisano diamond mines respectively.
"I will deliver on what I promised to do,' he said in an interview following the publication of Rockwell Diamond's 2013 financial results in which the company swung into a loss and saw a hefty C$7.2m cash outflow.
The total loss for the year was C$13.8m, a repeat of the loss in the previous year while share earnings losses came in at 22.55 Canadian cents per share. The results are in the context of a difficult period for junior diamond miners despite a market that has fundamental promise written into its DNA.
Campbell said the diamond market was slowly improving notwithstanding the seasonal lull as buyers moved into the northern hemisphere summer months, and that last year had not been only bad news.
"The diamond market is good at the moment. Prices are being maintained and we are beginning to see good beneficiation prices. There will be a period of consolidation going into the summer months,' Campbell said.
The company had managed to finance the development of two new mines, situated in Rockwell Diamonds' stronghold of the Middle Orange River in the Northern Cape, through working capital, he said.
By the end of the calendar year, the company expected to have three operating mines including Saxendrift, and the new projects, the Saxendrift Hill and Niewejaarskraal ventures up and running. This would take Rockwell Diamonds' production to about half of the 500,000 cubic metres per month Campbell thought was required in order to establish the company as a mid-tier diamond producer.
Campbell was also satisfied to have dealt with the loss-making mines in the financial year. But the pressure was now on. "Absolutely, this is a year of stand and deliver. I have to deliver on what I promised,' he said.
The all-important project that will take Rockwell Diamonds to its strategic production target is Wouterspan, a prospect that is deemed viable enough to take to a detailed design plan.
Rockwell Diamonds has a small cash balance of C$2.7m in cash, not enough to build Wouterspan which is estimated to cost C$41m. Including the almost inevitable slippage in budget that most capital intensive mining projects suffer, Rockwell hasn't the firepower to develop the mine. At the same time, Campbell said the company was anxious to protect its equity, especially in the current market.
"Wouterspan has a relatively small indicated resource so we could build a small scale mine,' he said suggesting that by building the mine in modules, the project would pay for itself. It would be assisted by improved cash flow as the company's other two projects built operational momentum.