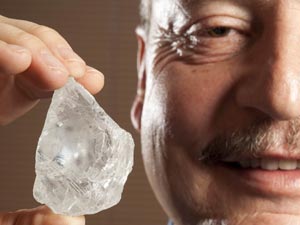 [miningmx.com] – UK-listed Petra Diamonds delivered a cautiously optimistic prognosis for its business in the 2014 financial year saying it would produce up to 3 million carats amid a firm market.
"Overall, the market for the year will remain steady as the US is looking strong while growth in China will be at lower rates than previously," said Johan Dippenaar, CEO of Petra Diamonds commenting on group prospects.
Dippenaar was speaking following publication of a trading update in which the company announced 2013 full year production of 2.67 million carats, a 21% year-on-year improvement. Revenue was consequently 27% higher at $402.7m.
A detailed guidance announcement for the current (2014) financial year would be published on August 13, and the group's financial results would be released in September. Shares in Petra moved up marginally in London today but they are 7% down over the last 12 months.
The company spent $201m in capital during the year which is a significant increase on the $138m it spent last year as the company chased down its 5 million carat/year production target by 2019. Borrowings consequently doubled to $147m.
David Abery, Petra financial director, said the company had "enough headroom" on its balance sheet for its expansion programme. "We won't look at any other financing such as offtake agreements which are inappropriate for the diamond industry," Abery said. "We can boost cash flow by trimming capex but there's no need to do that; there is no need for future debt facilities,," he said of the group's $71.3m in available debt funding. Rand weakness against the dollar was also assisting the company.
Higher run rates at Petra's mines was evident in inventories which were at $35m compared to $24.3m. Total debtors also increased to $75m compared to $24.5m which Dippenaar said was paid shortly after the close of the financial year.
Petra said it would put its Sedibeng and Helam mines on care and maintenance, operations it attempted to sell last year. Another mine deemed non-core previously, Koffiefontein, was however expected to return to profitability in the current year.
Of its 2.67 million carats of production for the year, Finsch mine produced the bulk (1.41 million carats), followed by Cullinan (868,975 carats) followed by the Kimberley underground and Williamson mines.
Commenting on labour relations, Dippenaar said that De Beers' recent 9% wage lift agreement at Venetia mine could serve as "a marker" for the diamond industry, but he didn't want to pre-empt an outcome on Petra's discussions. "I don't want to jeopardise the negotiations. We negotiate with the NUM in a central forum for all of our operations," he said.
Investec Securities said the diamond market was looking "better than flat" based on a higher average diamond price received by Petra ($159 vs. $152 per carat). "The outlook for the diamond market during Petra's FY14 looks healthy against a backdrop of constrained supply and stronger US demand," it said.