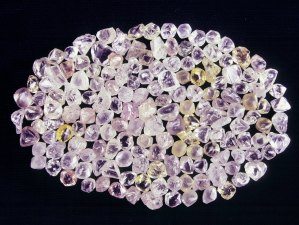 Firestone Diamonds should start production at its Liqhobong diamond mine in Lesotho during the fourth quarter of 2016 after bringing it into operation with sufficient funds still available to see the mine through to the point where revenues will flow from the first sale of diamonds in January 2017.
Briefing financial media in Johannesburg on Wednesday CEO Stuart Brown commented, "we have been acutely aware of the danger facing many junior mining companies which is that they run out of money before completing the project."
Brown said Liqhobong had total funds available at end-June of $64.7m which included a standby facility of $15m. Funds still to be spent to the end of the project – including finance fees of $1.4m and working capital of $3.7m – amounted to $40.7m.
That meant Firestone had financial "headroom" of $9m on its capital budget which gave it a total of $23m still available when the so-far untouched $15m standby facility was included. Brown said the $9m "headroom" would cover Firestone well into the first quarter of 2017.
Firestone acquired the Liqhobong project in 2010 when it took over AIM-listed Kopane Diamonds. The company subsequently raised $224.4m in 2014 to build the mine with construction starting in July 2014.
The funds were raised at 30p a share and Firestone is currently trading at around 52p after being boosted by market demand since it was announced chairman Lucio Genovese had bought one million shares at 44.5p on September 22 this year.
Liqhobong is planned to treat 3.6m tons of ore and recover one million carats of diamonds annually for the first 15 years of its life which could be extended if management decides to deepen the opencast pit.
Brown was formerly group CFO for De Beers from 2006 becoming joint acting CEO in 2010 before he subsequently retired.
Asked about the differences between working for industry giant De Beers and running a junior mining company Brown replied "you have to run a small mining company completely differently.
"It requires a totally differently mindset and it helped me greatly that, in De Beers, I was never known as a big spender. There were other words used to describe me – none of them complimentary.
"You have to drive the overhead out – in fact, not start with it.   De Beers and Anglo are huge. It's governance and it's oversight and it's reviews. That's not to say the De Beers' way is wrong but a junior cannot afford this. The junior has to do it right the first time.
"For example, look at De Beers Snap Lake mine which cost nearly $2bn. They paid $500m for it. Then they spent another $300m thinking about it – doing more drilling, doing more feasibility work. That's $800m before they had even started.
"Then we put together a budget of $640m which turned out to be $990 something million. I was a week in the job as the CFO when the chief operating officer said there's a bit of a cost overrun of $300m and slapped that on the table. It took me a while to absorb it because that's not a bit of an overrun – that's like you got it wrong by half. By the time we had finished it we had spent $1.9bn and I then impaired it.
" I am not being critical of De Beers.. All the things they have done have been built fantastically well and they have got the value out of it but you have to start with the capital in mind – what you can afford."