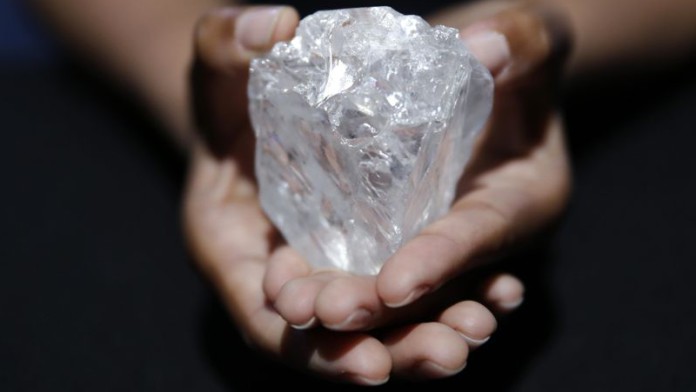 LUCARA Diamond Corporation paid an increased C$2.5 cents per share (1.82 US cents) dividend for the first quarter and said it was lining up the sale of exceptional stones in the current quarter which would revive cash holdings.
Lucara mines the Karowe operation in Botswana which in 2015 yielded 'Lesedi La Rona', a 1,109 carat diamond – the largest since the discovery of the Cullinan diamond in South Africa in 1905.
Cash on hand fell to $43.5m as of March 31 from $53.3m as of December 31 owing to capital expenditure of $5m and the dividend payment equal to a cash payout of $7.2m.
First quarter sales helped offset the decline but at some $26.1m they were lower than fourth quarter sales of $66m. This was owing to the timing of tenders, the company said.
Ore mined at Karowe was hindered by "extraordinarily heavy rains" – twice the seasonal average for February and March – whilst production was also affected by the transition to a new contractor in Aveng Moolmans. Lucara fired its previous mining contractor, Eqstra.
The outcome at the earnings level was nil per share compared to earnings of 5 US cents per share in the first quarter of Lucara's 2016 financial year. Shares in the company 1.6% higher in Toronto at C$3.18/share valuing the company at C$1.21bn ($880m).
"Our exceptional stone tender, planned for Q2, positions Lucara well for the year and with mining now ramped up and with a renewed focus on south lobe ore, we anticipate the delivery of strong cash flow returns," said William Lamb, Lucara CEO.
Lucara stuck to its 2017 revenue forecast of between $200m to $220m of which about 80% would be from exceptional stone tenders and the sale of specials, diamonds larger than 10.8 carats.
The firm's 11th exceptional stone tender, which includes 15 diamonds weighing 1,765 carats – equal to an average of 117 carats per stone – is due to close on May 11.
The revenue forecast also excludes the possible sale of Lesedi La Rona. Lucara said it "… continues to review opportunities for the sale of Lesedi La Rona to achieve maximum value". The stone failed to sell for its expected price of $70m in a Sotheby's auction last year with the highest bid coming in at $61m.