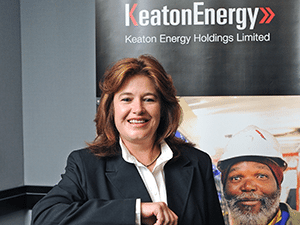 [miningmx.com] – KEATON Energy, the R480m coal junior, reported a steady production performance for the half year and, in a statement that reads like a coming of age, said it would start paying dividends at the year-end.
However, it warned that there was some risk of regulatory delays to its major capital project, the R300m Moabsvelden colliery.
Reporting its figures for the half year ended September 30, Keaton said it planned to start developing of Moabsvelden in its 2016 financial year and while it was confident of winning permits for the mine, it spoke of potential delays.
"Planning for our new colliery at Moabsvelden is proceeding largely to schedule albeit with some potential delays in receipt of certain regulatory approvals," the company said in its announcement to the Johannesburg Stock Exchange.
Another coal junior, Wescoal Holdings, recently added its voice to a growing contingent of miners who think it's taking too long to win mining, environmental and water use permits from the relevant departments of the South African government.
On October 21, Aquarius Platinum's said that the proposed $37m sale of platinum assets to a Chinese consortium had failed because government support was delayed nine times. Only days later, Ivanhoe Mining threatened to retrench staff at its Platreef project as it had been kept waiting for a mining permit, which was subsequently granted.
Keaton also said that it was in negotiations with Eskom to conclude a coal sales agreement for the 1.4 million tonnes/year (mtpa) it plans to produce from Moabsvelden.
Once built, however, Moabsvelden will take production at Keaton to about 4.3mtpa in coal production – just short of its 5mtpa strategic target that Keaton CEO, Mandi Glad, said would now be exceeded, probably in its 2017/18 financial year.
All in all, Keaton is tacking a difficult coal market steadily. At 1.45mt, sales for the interim were 5% higher than the interim period in its 2013 financial year.
It reported lower profits owing to the dilutory effects of having issued shares to buy Moabsvelden and increased finance costs related to the mine which together 'cost' the company 5.1 cents in share earnings.
The outcome, however, was interim share earnings of 13.7c down from 19.4c. On a normalised basis, which takes the dilution and finance costs into account, earnings for the interim were 18.8c/share versus 19.3c/share last year.
Net cash flow increased to R113m from R70m previously and helped cut net debt to R271m from R324m previously notwithstanding the fact Keaton is effectively spending heavily, as a proportion of its market cap.
Glad described the interim results as an "impressive performance" and said that as a result the company had approved the payments of dividends. A final dividend was on the cards with full-year earnings likely to come in flat year-on-year, as previously guided by the company.