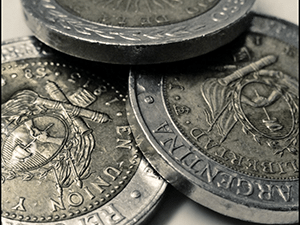 [miningmx.com] – SOUTH Africa's platinum producers Anglo American Platinum, Lonmin and Impala Platinum have formed a council that will seek to boost investment demand for the metal including lobbying governments to have it installed as a reserve asset.
Paul Wilson, the newly appointed CEO of the World Platinum Investment Council said the organisation also hoped to capitalise on the growth of platinum demand in China by having jewellery owners – who consume net 1.6 million ounces of the metal or 70% of the metal's jewellery market – consider platinum as an investment asset.
"There is a long term desire at the council to have platinum listed as a reserve currency," said Wilson in a telephonic interview today. "I can't see why they [the South African Reserve Bank] can't hold it in the same way as it holds gold," he said.
The South African Reserve Bank holds about 4 million ounces of gold in reserve. The world's central banks, however, bought some 92.8 tons (2.9 million ounces) of gold in the third quarter, according to World Gold Council.
Wilson, formerly an advisory partner of Bain & Company, said the performance of platinum as an investment asset was not well understood. This was despite the flourish of platinum and palladium-backed exchange traded products in the last two years.
"Platinum is an attractive investment asset. Over last 20 years, it has appreciated quite well and better than UK equities and real estate," he said. In pure price terms, platinum has tripled in value since 1994.
"Long-term sophisticated investors such as pension schemes and wealth funds haven't thought hard enough about platinum," said Wilson. The intention of the council was to add to investment products involving platinum.
"We will identify gaps where the right products are available and work with the financial services industry to fill gaps," he said. As of July, some 1.18 million ounces of platinum had been issued in Johannesburg Stock Exchange-listed NewGold Platinum Debentures, making the product the largest platinum-backed exchange traded product globally.
Wilson also believed there could be more take up of physical platinum investment ownership in the form of coins and bars.
"We think there isn't enough product in the bar and coin market and there needs to be more inventory held by manufacturers particularly in Asia and China. There are countries and regions where investors would like to purchase platinum, but it's not as easy as it should be," he said.
The council, which is also supported by Northam Platinum, Royal Bafokeng Platinum and Aquarius Platinum, will produce free quarterly market data with the first research due by December 3, said Wilson. "It will provide supply and demand data by various sector regions and include information on above ground stocks as well as the recycling market," he said.
Roger Baxter, COO of the Chamber of Mines of South Africa, and its senior economist, will be independent chairman of the council.
Paul Smith, COO of Wesizwe Platinum who sat on the steering committee for the council, said the initiative was long overdue for the platinum sector.
"We should have done it 10 years ago, but the investment council is an exciting development," he said. Wesizwe was not a member of the council as yet because its Bakubung mine was still in the project development phase.