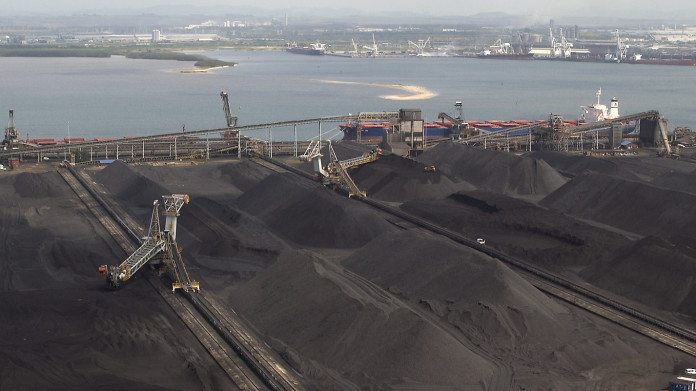 RICHARDS Bay Coal Terminal (RBCT) will be hoping it can repeat its fourth quarter performance of last year when it shipped just over eight million tonnes (Mt) of thermal coal in November alone – equal to 92Mt on an annualised basis.
Actual coal exports for the year were 72.57Mt – down from 75.38Mt in 2015 – but it could have been worse but for November shipments.
Shareholders in the terminal said last month that two bouts of bad weather in off the KwaZulu-Natal coastline had severely impeded operations and resulted in the terminal closing for a short period. RBCT has declined to comment on its recovery plans.
"RBCT declared a force majeure owing to some very bad weather in KwaZulu-Natal," said Mike Fraser, head of South32's southern Africa business in an interview. "At one point, on Monday (November 20), there were 37 ships in the queue, so there's pressure on the terminal," he said.
Anglo American confirmed its coal exports had been negatively impacted. "As a result of the poor weather we are seeing a longer than usual vessel queue at the port," said Moeketsi Mofokeng, spokesman for AngloCoal, the group's unlisted subsidiary. "We are satisfied with the measures that RBCT has put in place to reduce the backlog," he added.
Glencore declined to comment.
Fraser said it was unlikely that Transnet would meet is coal delivery target. "From a Transnet perspective, its recent performance has been better, but it will be behind what it said it would achieve," he added.
Transnet said in July that coal volumes on the Richards Bay line would be about 74MMt for its 2017/18 financial year, an increase from the 73Mt registered in the previous financial year. Said Fraser: "We are seeing if we can catch up on exports. It looks like November is going to be a pretty big month".
Nombasa Tsengwa, head of coal at Exxaro Resources, said there had been "a quite extensive closure" at RBCT and acknowledged the impact of the closure. "We are not able to chop and change; it is not a flexible system at RBCT," she said when asked if Exxaro Resources had any workaround plan from the terminal.
"We need to keep things in the line up, and from a mine perspective it is not possible to push through (prioritise) high value coal exports. As we sit now, we have full stockpiles at Richards Bay," she said.
RBCT said in January it had pegged maximum coal railage capacity on the Richards Bay line at 81Mt annually for at least the next six years which compares to its previous estimate of about 85Mt/y over that period.