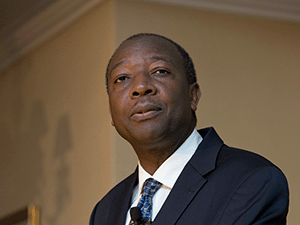 [miningmx.com] – ANALYSTS responded negatively to Anglo American's third quarter production figures last week with attention falling on the UK group's iron ore division where its Minas Rio and Kumba Iron Ore operations were under pressure.
Although production from Kumba which at 11.4 million tonnes was in line with expectations, Minas Rio output was "behind plan", said Macquarie Research. This was due to water quality issues, it added.
"Anglo American released a weak set of 3Q16 production results relative to expectations, the two misses being diamonds (De Beers) and a slower than expected ramp-up from Minas Rio," it said.
"Given the positive production results already released by BHP Billiton, South 32 and Rio Tinto, this is likely to be viewed in a negative light," said Macquarie. Shares in Anglo American have been about 9% weaker in the last seven days (excluding today's trade) while Kumba has been a fifth weaker over the same period.
Goldman Sachs said Kumba had little room for flexibility owing to the amount of waste stripping ahead of it. As a result, it expressed doubts as to whether the company would reinstate the dividend any time soon.
"We believe that Kumba has limited levers to cut costs as it will have to deal with increased stripping over the next couple of years," said Goldman Sachs.
"Also any restructuring would likely include lay-offs – which historically has been challenging in South Africa.
"As such the cash flow generation remains challenged – we forecast continued cash burn from next year onwards. Therefore we see very limited chance of the dividend being reinstated," it said.
In July, Kumba passed the interim dividend and said volatility in iron ore prices made a final dividend hard to call amid restructuring, capital cutbacks, and a highly stressed balance sheet.
"There is a lot of volatility in the market and we cannot be certain how much cash we will have," said Norman Mbazima, CEO of Kumba at the time. However, he added that the group did not like idle cash on its balance sheet.
"If we have enough cash and there's been a decrease in the volatility, I'm sure the directors would like to approve a dividend," he said.
The lack of a dividend is bad news for Exxaro Resources which said in June that a reduction in the dividend from Kumba would hurt its own ability to meet debt covenants and pay shareholders.
"This has a direct impact on our cash flows, our ability to comply with financing covenants, as well as to continue to pay dividends," said Wim de Klerk, CFO of Exxaro in June.