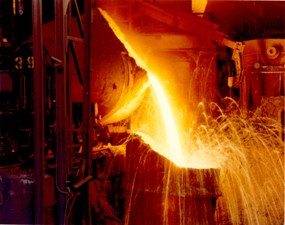 [miningmx.com] – INDIAN diversified group, Essar Holdings, may have found a breakthrough to its stalemate with the Zimbabwean government over the resuscitation of New Zim Steel, a Zimbabwean steel producing project it which it was promising to invest billions of dollars.
Essar acquired a 54% controlling stake in the Zimbabwe Iron and Steel Company (Ziscosteel) which has since been rebranded NewZim Steel, after agreeing to pay the government about $750m for a controlling stake in the steel project. Zimbabwe now controls about 46% in the steel giant, which has about 3,000 employees on its payroll despite being dormant.
Revival of operations at NewZim Steel stalled after the government refused to grant iron ore concessions to Essar for the resuscitation of operations at the iron and steel manufacturing company.
Now the new government of President Robert Mugabe has made a commitment to resolve the issues around the iron and steel producer's access to the iron ore claims at Buchwa and Bimco.
"We have made a commitment (together with Zimbabwe Industry Minister, Mike Bimha) that we will ensure that NewZim Steel is able to come back on stream,' said Walter Chidhakwa, the Zimbabwean Mines and Minerals Development Minister.
Bimha said recently that there were indications that operations at New Zimbabwe Steel will "definitely commence' before the end of this year.
Chidhakwa, who visited Mimosa mine – which is jointly owned by Impala Platinum (Implats) and Aquarius Platinum on Saturday – said that NewZim Steel will now be allowed to get access to iron ore from the contested claims. This is meant to facilitate the resuscitation of operations at the steel-maker.
"The issue was on Bimco reserves. We have found a way of dealing with the matter to ensure that the company continues to access the mineral ore," said Chidhakwa.
Firdhose Coovadia, Essar's resident director for Africa, Middle East and Turkey, said last year that Essar was prepared to "invest $1bn in a steel plant (in Zimbabwe) to achieve annual production of 1,2 million tonnes.'
It would also sink $100m on iron ore reserves that have not previously (been) explored and another $3bn to create a world-class beneficiation plant and a separate power plant.
Zimbabwe miners are reeling under crippling power outtages and challenges emanating from the operating framework such as expensive capital and high mineral royalties.
South African-based groups such as Implats have said they are satisfied with the progress of negotiations with the government on issues affecting them in the country.
Implats officials say they want some provisions under the indigenisation deal signed with the government to be revisited.