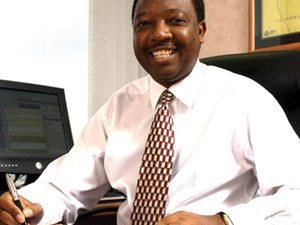 [miningmx.com] – NORMAN Mbazima left Anglo Thermal Coal, where he was the Anglo American subsidiary's CEO for another Anglo vassal, the 79.4%-owned Kumba Iron Ore. In so doing, he swapped a company sailing into uncertain regulatory waters for another similarly bound.
It's certain that the South African government wants to legislate cheap domestic coal to Eskom in order to control electricity prices. There are similar external pressures building in the domestic iron ore industry that reference Government's interest in building viable downstream steel industries; perhaps even a steel mill at Coega.
Whereas the government intends to declare coal a strategic mineral, and thereby partially regulate domestic supply, it's less clear what it has in mind for local iron ore supply. Proposed amendments to the Minerals and Petroleum Resources Development Act (MPRDA) provide the government with greater power to impose a pricing regime over certain metals.
Mbazima acknowledges there are challenges in government's vision. "It [Government] does want to force economic activity in the downstream steel sector,' he said in an interview with Miningmx. "The question is the price,' he added.
Mbazima knows export parity pricing for a portion of Kumba's domestic supply is unacceptable to the government. Similarly, anything less than a double-digit return and covering the cost of capital would be unacceptable to Kumba especially where it is allocating fresh capital. Quite simply, Kumba can divert capital from South Africa to other parts of the globe.
Enter Kumba's so-called "second footprint'. This is Kumba's West Africa exploration strategy. At the moment, Mbazima has underplayed the prospectivity of digging Africa for new sources of iron ore. "We won't rush into Africa,' he says. But as Mbazima, and all in the iron ore business know, West Africa is replete with iron ore prospects. Sure, the region is under-serviced by infrastructure, but Kumba has already established a foot in the door through a $10.5m joint venture with Jonah Capital in Liberia.
Still, Mbazima thinks a middle ground can be negotiated with the South African government on implementation of the amendments. "If Government's proposals prove uneconomic, it will be difficult,' says Mbazima. "But I think Government appreciates the difficulties. It is realistic,' he adds.
Not all agree with that. A steel merchanting company told Miningmx earlier this week that the long-standing misconception held by the South African government of the steel industry is that merchants enjoy windfall margins by dint of a monopolistic structure that links the dominant players directly to ArcelorMittal SA (Amsa).
Amsa in particular faces a raft of anti-competitive suits amid the prospect of Government, aided by the Industrial Development Corporation (IDC), establishing an independent steel mill. Steel merchants are encouraging discourse with the industry. Better for Government to position its steel manufacturing presence in such a way that it's a net positive for the sector.
As if Amsa's problems weren't enough, it is now contending with the shutdown of its Vanderbijlpark Mill following a fire last week that resulted in "substantial damage'. That's how CEO Nonkululeko Nyembezi-Heita described it. There have been technical mishaps at Amsa before; most recently, Amsa was paid R734m in an insurance payout after losing R1.1bn in 2011 following a furnace failure at its Newcastle plant.
Mbazima says iron ore that would have been supplied to Amsa's Newcastle Works can easily find a home in the export markets despite the fact the steel market has been slowing since 2008. Steel production growth was only 2% in 2012, down from 7% growth in 2011.
Meanwhile, there's a prospect that Kumba's new iron ore mine – Phoenix – which is planned to replace production from the nearly mined out Thabazimbi mine, could be delayed. The reason is another legal match-up between Kumba and Amsa in which Amsa is claiming the right to supply from Phoenix. This is despite withdrawing from the project in 2006. The matter is with the lawyers.
"It's a vexing question for all of us,' says Mbazima. "It will be difficult to go to the board with that uncertainty [of legal action],' he says. Kumba is pressing ahead with the technical aspects of the project nonetheless.
Of course, the disagreement over whether Amsa has any rights over iron ore from Phoenix will be eclipsed should a High Court review today (February 19) overturn a ruling that Sishen Iron Ore Company, a subsidiary of Kumba, was awarded 100% mineral rights over Sishen mine in 2008.
Remember that case? This is the Imperial Crown Trading (ICT) debacle that ICT and Government's minerals resources department has appealed. If they win the appeal, all hell is going to break loose.