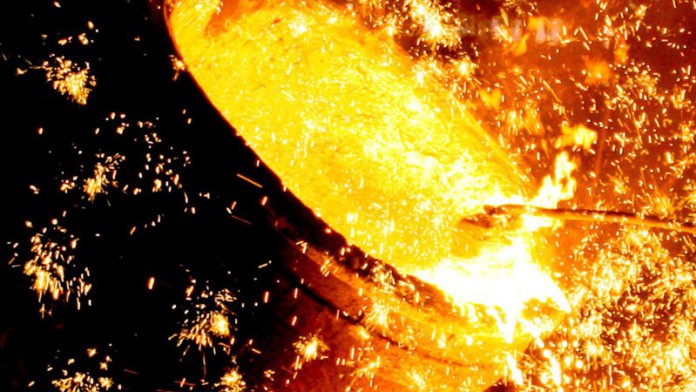 ARCELORMITTAL South Africa (AMSA) said its Saldanha steelworks was viable following a review of the operation, but added that the sustainability of the company as a whole turned on a combination of factors including government support for import tariffs.
Commenting in its first quarter production report, the South African steel producer said support for a 10% tariff duty on certain products had been formalised by the International Trade Administration Commission (ITAC). It was now waiting on the government.
There were also steps to establish a pricing mechanism for local flat steel with the Department of Trade & Industry, although the process was not yet complete.
The National Treasury was also being consulted regarding a proposal for the designation of local primary steel for state procurement in various infrastructural projects.
"Shareholders are reminded that the future sustainability of the company is highly dependent on resolving all outstanding matters," said the company in its first quarter update.
This included "… localisation of steel for government infrastructure projects, tariff protection … as well as the implementation of safeguards and a fair pricing mechanism," it added.
Commenting on the viability of the Saldanha Works, AMSA said that based on current prices the operation "remains viable at this stage". It added, however, that controlling the price of electricity was critical to it remaining open.
"Therefore, in the long term, Saldanha Works needs alternative energy solutions such as access to affordable electricity which is vital to ensure its long-term sustainability," it said.
AMSA was "… at an advanced stage in exploring various options which included independent gas-to-power producer located in Saldanha," the company said. "Such a project relies strongly on government support for the importation of liquefied natural gas, and other regulatory approvals," it said.
AMSA said in August last year that it would cut 400 jobs following a restructuring of its Vereeniging Works and that a review of operations had been extended to Vanderbijlpark.
The South African government had agreed to provide some import duty protection against Chinese imports whilst Sishen Iron Ore Company, a subsidiary of Kumba Iron Ore, had also agreed to lower its iron ore sales price to AMSA.
AMSA shareholders suffered an R8.5bn loss in the year to December from a R158m loss in 2014. It posted R4.25bn in impairments for the year after a year of heavy restructuring. The company completed a R4.5bn rights offer to get back on its feet, largely under-written by Luxembourg-based parent company, ArcelorMittal.
Commenting on its first quarter production figures, AMSA said liquid steel production totalled 122,000 tonnes, a decline of 9% compared to the first quarter of the previous financial year. The lower output was put down to disruptions including the closure of the Vaal Meltshop and the closure and restart of a blast furnace at Vanderbijlpark Works.
Domestic sales increased by 12,000t or 1.4% with long products higher by 23,000t and flat products lower by 11,000t compared to the first quarter of 2015.
Market conditions locally and internationally remained challenging.
Shares in AMSA, which has improved 125% since the beginning of the year, were some 1.67% stronger on the Johannesburg Stock Exchange today. The company is valued at R10.2bn.