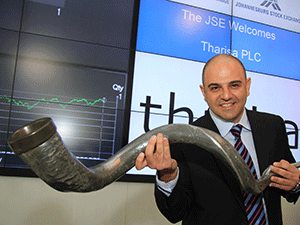 CHROME and platinum group metal (PGM) producer Tharisa Minerals forecast a best ever performance in its current 2017 financial year after a strong production finish in the fourth quarter of the previous year.
Of the 2017 financial year, Phoevos Pouroulis, CEO of Tharisa, said it would be "… the year that Tharisa reaches its full potential and delivers exceptional value to all stakeholders".
This comment followed publication of the firm's 2016 full-year production figures in which PGM production increased 12.4% to nearly 133,000 ounces year-on-year. Chrome output was 1.24 million tonnes, an increase of nearly 11%.
Specialty chrome concentrate production more than doubled to 269,400 tonnes year-on-year, an increase of 138.8% and came by dint of a strong fourth quarter showing in which chrome prices also improved.
Tharisa, which operates the Tharisa mine on the south-western limb of the Bushveld Complex in South Africa's North West province, said chrome prices had increased 50% in the last quarter.
An average contracted selling price of $157 per tonnes (CIF) to main ports in China was achieved in the quarter. This was higher than the $105/t in the previous June quarter, an improvement attributable to the rebuilding of stockpiles by Chinese ferrochrome producers, itself a function of stronger stainless steel demand growth in China.
Contracts for delivery to ports in China in November 2016 have been concluded at selling prices exceeding $200/t, the company said.
Tharisa said it expected to produce 147,400 ounces of PGMs and 1.3 million tonnes in chrome concentrates, of which 300,000 tonnes will be specialty grade chrome concentrates in the 2017 financial year.
The company had modified its Voyager chrome processing circuit in the first half during the production year under review in order to offset the effects of then depressed metallurgical grade chrome concentrate prices.
Subsequently, metallurgical chrome prices have more than doubled since the plant modifications were completed, but the product diversification enables the firm to sell chrome "to more globally diversified markets," it said.