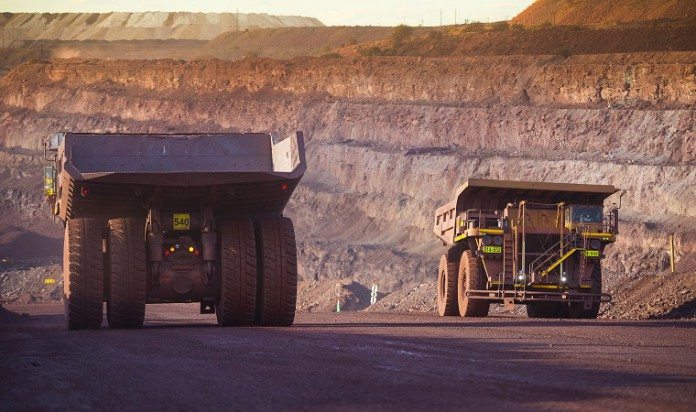 KUMBA Iron Ore was the highlight of Anglo American's third quarter production figures with the 70%-owned listed subsidiary showing signs it could meet its 27 million tonnes (Mt) full-year production target after all.
This was in question at the half-year point when it recorded output of only 11.5Mt amid a restructuring at its Sishen iron ore mine in South Africa's Northern Cape province.
Nearly 4,000 jobs were cut while the life of mine at Sishen was reduced. The upside was that Sishen improved its grade, cut costs and generated cash of R4.5bn, enough to wipe out debt.
The company today said Sishen had produced 8.3Mt of iron ore in the third quarter, a 46% increase over output in the second quarter. Compared to the third quarter of the 2015 financial year, Sishen's produced 9% more ore. Including Kumba's Kolomela mine, there was a total 3% year-on-year improvement in ore ore production at some 11.8Mt.
Commenting on the group's total production metrics for the quarter, Anglo American CEO, Mark Cutifani, said: "Operational improvements continue across the portfolio delivering a 4% production increase on a copper equivalent basis.
"The latter increase is largely due to the strong recovery at Kumba's Sishen mine, a 46% production increase following the successful completion of its restructuring".
The improvement in Sishen's production was due to increased run of mine feed rates, improved quality feedstock material and better plant yields, said Kumba in a statement. Sishen has also moved to a three shift roster in early September which is expected to result "… in further improvements in equipment efficiencies over the medium term.
"Sishen remains on track to achieve guided production of about 27Mt for the full year," the company said. Exports were 18% higher quarter-on-quarter at 10.3Mt.
Production numbers at Anglo's other operations during the quarter were mixed. Copper output at its retained operations (those the group is not selling) fell 9% to 139,000 tonnes owing to lower grades and a strike at Los Bronces as well as a strike at El Soldado. There were strong figures out of Collahuasi, however.
Diamond production fell 4% to 6.3 million carats year-on-year as De Beers, Anglo's 85%-held subsidiary, responded to weaker trading conditions in the sector. Full year production guidance of between 26 to 28 million carats was unchanged.
Iron ore production from Minas Rio, the Brazilian iron ore mine that Anglo said it eventually intended to sell, increased 53% to 4.5Mt as it ramped up production.
The development of Minas Rio has been a long, costly, drawn out affair owing to the time taken to win permits from the Brazilian authorities. However, a provisional licence approval was granted in July which enables Anglo to access the next tranche of reserves at the mine. This allowed the mine better mining flexibility in the quarter.
The final approval of this licence was obtained in October 2016, said Anglo. Full Year guidance at Minas Rio was unchanged at some 15 to 17Mt. There was also no change in the production guidance of Anglo's coal, nickel, copper and platinum mines for the year.
At some 619,000 ounces, platinum production from Anglo American Platinum, in which Anglo has an 80% stake, was 1% higher compared to the third quarter in Amplats' previous financial year.
The company recorded "strong operational performances" at Mogalakwena, where output was 12% higher, and at Amandelbult whilst its Unki mine in Zimbabwe was 16% higher.
Refined platinum production increased 14% to 694,600 ounces for the quarter following a recovery at the Precious Metals Refinery, but sales were more than 100,000 oz less as leases of 49,000 oz were repaid while the balance was used to build up refined inventory.
"Mixed result once again, with many moving parts considering ramp-up/downs, asset sales and strike/weather impacts," said James Oberholzer, an analyst for Macquarie of Anglo's third quarter results.
"We consider iron ore production improvements and higher average realised diamond prices as the key positives from the result offset by lower copper and met coal volumes," he said.
Goldman Sachs said the figures would be taken positively overall, helped by an overnight improvement in the prices of some commodities. "Iron-ore was the big beat with the company delivering higher volumes at Sishen," said Goldman Sachs. "Also Minas Rio was a surprise on production."