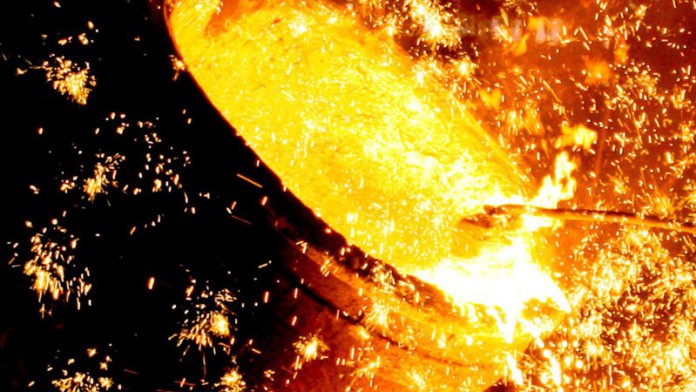 ANGLO American Platinum (Amplats) would take a R750m hit to pretax earnings in its 2016 financial year owing to a leak at its Waterval smelter which represents a fifth of the group's smelting capacity.
The Anglo American-owned company said in a third quarter production report today that some 75,000 ounces of refined platinum production would be lost.
Although significant, this is the lower end of an estimate it made in September shortly after the smelter 'run-out' in which it said up to 100,000 oz of refined production might be lost.
"The full impact on refined production from the run-out of the Waterval smelter is unlikely to flow through to sales volumes in 2016, which will be supplemented by inventory and market activities," Amplats said.
Goldman Sachs said in a report today that the lower than expected impact of the Waterval smelter run-out was "a negative for platinum group metal prices".
A leak of molten furnace matte was discovered at Waterval furnace number one's hearth on September 10 which required staff to stop the unit. No-one was injured in the event but the group would have to bring the rebuild of the smelter, which had been planned for 2018 forward two years.
This would result in a build-up of concentrate ahead of the smelters; however Amplats said the concentrate would be processed in full by the end of 2017. Mining and concentrating activities are unaffected, therefore there is no change to the full year production guidance of 2.3 million to 2.4 million oz.
Unit costs for the financial year have been estimated at between R19,250 and R19,750 per platinum ounce (metal in concentrate).
At some 619,000 ounces, platinum production for the third quarter was 1% higher compared to the third quarter in Amplats' previous financial year.
The company recorded "strong operational performances" at Mogalakwena, where output was 12% higher, and at Amandelbult whilst its Unki mine in Zimbabwe was 16% higher.
Refined platinum production increased 14% to 694,600 ounces for the quarter following a recovery at the Precious Metals Refinery, but sales were more than 100,000 oz less as leases of 49,000 oz were repaid while the balance was used to build up refined inventory.
"Following the significant restructuring at Union, the mine continued to perform in line with its optimised mine plan, maintaining production at 37,700 ounces, despite a reduction in labour," said Amplats.
The cost of the furnace rebuild would take total capital and stay in business expenditure for the year to reach the upper end of Amplats' guided range of R4bn. It had guided for between R3.5bn and R4bn. Capitalised waste stripping of about R1.2bn has also been estimated.