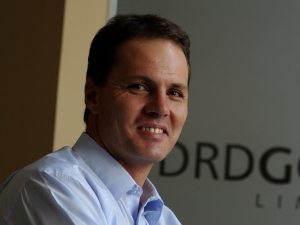 [miningmx.com] – DRDGOLD is turning out to be one of the few gold shares that rewards investors.
While other gold companies skip dividend payments, slash employee numbers, and cut back on capital in order to stay afloat, DRDGold will deliver a final dividend of 14 South African cents for its 2013 financial year.
"The company offers a decent dividend [whereas] Harmony, AngloGold [Ashanti] and Gold Fields have all skipped their dividends," said a gold analyst.
This year was the first year DRDGold paid an interim dividend, bringing the total payout to shareholders to 28 cents for the year – an 180% increase on the dividend paid in the previous year.
"We have paid a dividend for five years. We still have a bit much cash on the balance sheet and we do not want to hold onto surplus cash," said Niel Pretorius DRDGold's CEO. The dividend policy was to pay about 30% of headline earnings to shareholders, he added.
The company, which produces gold through the recycling of mine dumps, has cash and cash equivalents of R377.2m.
DRDGold is winning institutional investors as well.
Investec's funds hold the largest stake of the South African institutional investors. "Our institutional shareholders have risen from 20% 18 months ago and now make up above 50% of our shareholder base," said Pretorius.
He said that investors were not deterred from investing just because they are South African, or because they have operations in the country; rather, investors are simply looking for returns. In last five years, DRDGold has been in the top five gold companies globally in terms of share price performance.
DRDGold, which concludes its wage agreements outside the Chamber of Mines negotiating forum, is in talks with unions. Pretorius said he hopes for a settlement in three to six weeks.
"We have a profit participation scheme. In the past two years there has been a basic increase of 8% and a further 7% through the scheme. In the last 24 months [our workers] have seen double digit increases. We could see a similar scenario going into the future," said Pretorius.
Commenting on the ongoing negotiations, Pretorius said: "I don't think we are too far apart … and we do have more room to manouevre."
The focus for the company going forward is to commission and fine tune its flotation, fine-grind project, which extracts gold from dump waste, at Ergo's Brakpan plant. It hopes to complete the plant and reach steady state production by December this year.
With the completion of this R280m project DRDGold will be spending less on development which will give it "head room" in the face of a volatile gold price, said Pretorius.
DRDGold said its operating profit was R679.3m, a 9% increase year-on-year, for the financial year to the end of June. Headline earnings rose 11% to 68 South African cents a share.
It produced 146,381 ounces of gold in the year, 8% higher than in the previous 12 months and revenue grew 18% to R2,076.5m.
"All-in sustaining unit costs, as defined by the World Gold Council, rose by 10% to R365 569/kg. Key contributors were the costs associated with the mining of additional sand resources at the Knights plant and above-inflation increases in the cost of labour, electricity and reagents. The all-in sustaining costs margin was steady at 20%," said the company.