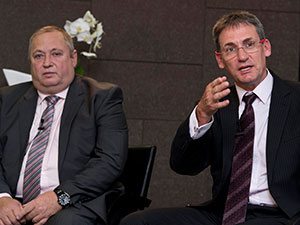 [miningmx.com] – THE proposed R4.5bn takeover of Anglo American Platinum's (Amplats') Rustenburg mines by Sibanye Gold means that the gold producer is actually transforming into a multi-commodity mining house.
In addition to the 800,000 ounces of platinum group metals (PGMs) that comes with Rustenburg, Sibanye Gold has added the prospect of mining coal through its proposed takeover of Waterberg Coal Company, a Johannesburg-listed company with plans to produce a five million tonne/year thermal coal mine in South Africa's Limpopo province.
Add that to the uranium by-product from its 1.2 million ounces a year of gold production and you can very quickly see why Sibanye Gold has fallen far from the Gold Fields tree, from which it was unbundled in 2012.
Neal Froneman, CEO of Sibanye Gold (which must now surely change its name to something like Sibanye Resources) said the intention was always to diversify but not in order to create a mining house of old.
"That was always the intention but it was not a strategy to diversify by commodity but about becoming a sustainable benchmark dividend payer,' he said in an interview with Miningmx. "What we are doing is taking the shackles off gold,' he added.
That's an implicit admission that the gold business cannot, on its own, comfortably drive the R1bn a year dividend prediction to 2028 it made in August last year. Already, there are doubts that a dividend of that size will be paid in the current financial year.
Froneman said there had to be consolidation in the platinum sector, as there has to be similar activity in the gold industry, but it's not clear how Sibanye will embark upon this.
It didn't opt for Amplats' Union section which was also for sale as the company wanted to make a bite-size acquisition first before moving on to other targets. Yet Froneman seemed a bit sniffy when the suggestion of a Lonmin takeover was put to him.
"Something like Lonmin is cheap at the moment, but it's like considering a bid for Harmony,' said Froneman. "These companies are losing a lot of money and buying them doesn't work without synergies. They need a lot of capital, they have got heavy debt and then you'd probably have to pay a premium for control of the companies,' he added.
Yet platinum consolidation does seem to be the plan.
"As much as we believe there is consolidation necessary in the gold sector, it really is a view based on enhancements from rationalising infrastructure and we have a similar view on platinum,' he said in a media call following announcement of the Rustenburg bid. "We did not anticipate Rustenburg being only one step.
"I wouldn't like to create the impression that there will be a whole lot more steps but we are certainly open-minded regarding further consolidation in efficiency enhancement,' he said.