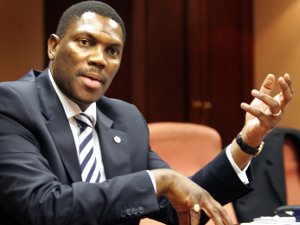 [miningmx.com] – LAZARUS Zim, chairperson of Northam Platinum, hailed the company's newly appointed CEO, Paul Dunne, saying the two of them had "phenomenal chemistry' and that big things were planned for the platinum firm.
It's a declaration one might expect of Zim. Dunne has in Northam Platinum his first bite of the big time as head of a major listed mining firm, but in Dunne, Zim has the second bite at big time business.
Two years ago, the world of Lazarus Zim came crashing down. Forced to shut his firm, Afripalm Resources, he retreated to the shades whilst the sceptical investment market sucked its teeth. Zim had become one the highest profile victims of failed black economic empowerment (BEE).
Afripalm Resources had first emerged in 2006 as a driving force in the spectacular reverse takeover of Tokyo Sexwale's Mvelaphanda Resources, itself the former torch-bearer for frontier BEE in South Africa.
Zim, a former MTN executive and head of Anglo American SA, was the new Sexwale. What lay before him were handsome looking investments in Gold Fields, Trans Hex, and Northam Platinum. Nothing could go wrong.
Then, it did.
Three years later, the world economic crisis precipitated the enormous climb-down in commodity prices. There was recovery by 2010, but confidence in BEE seemed to have shaken. Northam shares that once guaranteed Zim's debt in his chosen investment of Northam Platinum now failed the covenant tests put in place by banks. So they called in the shares and the banks.
It was a heavy blow for Northam which saw its empowerment credentials reduced from 26% to well under 10%. What's worse, the Department of Mineral Resources in a potentially precedent-making decision, demanded Northam rebuild its BEE stake, no matter the cost. For Zim, however, the failure of Afripalm was the end of a glittering rag-to-riches story.
"The banks did very well,' said a rueful Zim. Perhaps looking slighty older, he is nonetheless in remarkably good cheer, betraying none of the bitterness you might expect of somewhat who has, as the Americanism has it, been "through the wringer'.
Zim is now a principle of the Atius Consortium, a member of the Zambezi Platinum Consortium, which has taken a 5% stake in Northam Platinum equal to about R560m as per the platinum firm's market cap at the time of writing. He also remains chairman of Northam Platinum with the appointment of Paul Dunne, who replaced Glyn Lewis as CEO this year, clearly of benefit.
"We have a phenomenal chemistry,' said Zim of Dunne who was previously head of operations at Impala Platinum until a falling out with Impala CEO, Terence Goodlace, led him to Northam. Dunne's arrival was a pivotal moment for Zim since the former Impala man did not attach to Zim the failure of a previous empowerment deal.
The plan now is for Zim's Atis to keep its investment strategy restricted to Northam Platinum in terms of the platinum investment market, hence the R400m lock-in fee Northam agreed to pay to Zambezi Platinum Consortium as a whole, that Dunne also described as a "restraint of trade' .
Asked to comment, however, on plans Atis would have to other mining investments, Zim is deliberately vague: "Atis is doing a lot of other things, but quietly. It is better to announce things once they are done.
"Talking about plans is not the best thing I have learned,' he said referring to his former position as the poster child for all things glittering in the BEE mining space. "I am a great believer in platinum. I think this is the right time,' said Zim.
A version of this article first appeared in Finweek