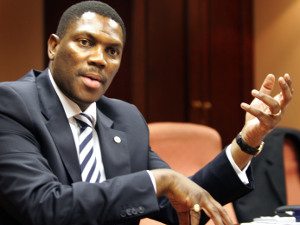 [miningmx.com] – IF being forced to sell a handsome slice of Northam Platinum in 2012 was a dark time for his Afripalm Resources, Lazarus Zim isn't saying. "I never closed the doors at Afripalm. I've always been here,' he said.
Technically speaking, Zim never left. The offices from which he speaks is still the plum address in Sandton once occupied by Afripalm Resources, the firm that joined hands with Mvelaphanda Resources around 2007 to take a 26% of Northam in one of the sector's banner BEE deals.
Market conditions, however, made dividend flow tough for Northam with the result that Nedbank called on its loan to Afripalm which was underpinned by the shares. Zim retrenched staff at Afripalm and retreated to Nigeria during December 2012.
Now, however, Zim is head of the Atius Consortium, a 5% shareholder in Zambezi Platinum and Northam Platinum's new empowerment vehicle. The consortium listed on the JSE on May 11, a development that formally signals the end of a two-year period of economic exile for Zim.
"I stayed on as chairman at Northam because we decided to empower the company again,' said Zim.
In fact, Northam had no option but to look for fresh empowerment after the Department of Mineral Resources insisted there was no "once empowered, always empowered rule'. It said in a diktat made public by Northam at the time that it find a new empowerment partner, or else.
As it turned out, Zambezi Platinum became Northam Platinum's 31.4% black economic empowerment partner "buying in' to the platinum firm in a high profile R6.5bn transaction that also raised R4bn in expansion capital for Northam.
Listing Zambezi Platinum now effectively monetises the empowerment partner's stake, offered to the market in preference shares, and which carry a 3.5% coupon rate, described by Zim as an attractive entry point to Northam.
The capital and BEE structure Northam has put together comes at a price, however. In 10 years time, the hope is that Northam pays enough dividends to enable its BEE partners to repay Northam shareholders for the 31.4% stake. So it has its risks.
"It does put pressure on Northam because the preference shares represent an attractive entry level,' said Zim. "Our challenge is to make our share price more attractive than the preference share,' he added.
The plan is for Northam to capitalise on market weakness to buy up low cost, mechanisable platinum deposits. Zim said they exist and that Northam plans to play. The company has already paid R450m for Aquarius Platinum's Booysendal mine which will add 250,000 ounces a year to output.
During that time, Zim is hoping the platinum market will stage a turnaround. "The next three years the markets will be subdued. At some stage it will have to rebuild e.g. people buying more cars, jewellery. Haven't had such a long downswing.
In the meantime, Zim has other businesses bubbling under. He and several former telecoms executives have a mobile licence in Nigeria who are looking at establishing an independent network.
Zim also has farming interests: "I farm cattle and sheep on about 450 hectares of land around Clarence [in the Free State province]. It's fantastically beautiful'.
There also another mining transaction, although he declines to give other details except to say that it's quite "developed'.