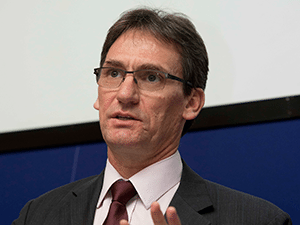 [miningmx.com] – ANGLO American Platinum (Amplats) has delayed its capital projects and has vowed to cut cash outflow by R6bn amid macroeconomic pressures on the platinum group metal market that it said did not want additional ounces.
The group, which is 80% owned by Anglo American, also said it continued to weigh up whether it would either sell or list its non-core Rustenburg assets with the preference still "slightly towards a listing", possibly around 2017.
"We are pursuing both options including preparations for an IPO early 2017. If a trade sale happens, it will be before then," said Chris Griffith, CEO of Amplats. "This is a very difficult environment to do an IPO," he said.
Griffith was responding to media questions this morning following publication of the firm's interim production and financial results in which it booked R2.47bn in headline earnings, a R2.3bn increase on the strike affected six months in 2014.
Attributable profit for the period was 936 cents per share compared to 164 cents per share in the comparative period while headline earnings per share rose from 60 cents to 946 cents per share, the group said.
Equivalent refined production (mined ounces expressed as refined ounces), including production from joint ventures, for the six months was 1.11 million ounces compared to 860,000 ounces in 2014.
Commenting on full-year equivalent refined platinum production, Amplats said it would fall within guidance of between 2.3 million to 2.4 million ounces which output in the second half of the year higher than in the first.
The rand fell 11% against the dollar during the period but this was insufficient to offset a 13% decline in the average US dollar basket price per platinum ounce sold to $2,157 from the $2,474 in 2014.
Amplats generated R6.4bn in cash which helped ease pressure on the balance sheet with net debt falling by R1.7bn from the December close to R12.9bn. However, Amplats said in notes to its interim results that cash conservation figured highly in its agenda.
"The company seeks to reduce cash outflow by R6bn from a reduction in capital expenditure over the next two years," it said. This would be achieved through R600m in non-labour cost savings a year such as advisory services, exploration and project studies. The group announced on June 23 it was cutting 420 managerial jobs.
Amplats said it had also delayed several projects which would be re-evaluated at the end of 2016 while others – such as the development of the Twickenham mine – had been re-designed into lower capital intensive options.
"None of the project delays will impact our short-term production profile," said Griffith. "But clearly, the market doesn't want us to bring additional ounces and so we have decided to delay all of our projects.
Capital expenditure would be reduced to between R4bn to R4.5bn, excluding capitalised waste stripping for 2015, the company said.