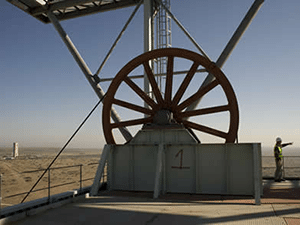 [miningmx.com] – SHARES in UK platinum producer, Lonmin, continued their downward slide following up an alarming 18% loss on July 24 with another 10% fall today halving the company's value to R6.3bn in 30 days.
This is despite unveiling a restructuring plan on Friday in which it would cut 100,000 ounces a year of loss-making platinum and a near 1% improvement today in the dollar price of the metal to which Lonmin is leveraged. The platinum price is about 4.9% weaker over the last 30 days, however.
To put the decline in the share price in perspective, the company is now worth about R6bn less than at the end of June. Since the restructuring was announced, the share is down 27%. Since the Marikana tragedy in August 2012, the company's share price is roughly 75% lower.
RMB Morgan Stanley analyst, Chris Nicholson, said in a report that the restructuring may have bought Lonmin time, but it was not "a sustainable solution". He estimated the firm was burning $175m a year at spot prices even after the restructuring.
"We estimate that prices 15-20% higher than spot are required for Lonmin to achieve FCF [free cash flow] breakeven," said Nicholson who added that this assumed capex of $130m even though Lonmin needed to spend up to $250m in order to sustain output in the medium term.
RMB Morgan Stanley had assumed a platinum price of $1.175 per ounce by the 2016 but saw a 52% downside to its 'bear case' established in its report "… which appears to be increasing the longer prices remain at current levels," it said. It had a price target of about R17.64/share against a current price of R10.80/share.
At spot commodity prices, and after reducing capex to $120m, Lonmin was likely to be marginally cashflow negative through 2016, said Andrew Byrne, an analyst at Barclays Capital. He added that 'big picture' showed more trouble for Lonmin.
"[T]his reduced supply wont impact metal markets for around two years, and thus if larger peers Anglo Platinum and Impala were to employ similar strategies, the market is likely to remain over-supplied over this period, exacerbating downward pricing pressure on commodity markets and profitability," said Byrne.
"Our recommendation on Lonmin remains neutral but the risks remain skewed to the downside as metal prices remain way below our assumptions for the current year as well as future years," said Gerhard Engelbrecht, an analyst for Macquarie Research.
Lonmin is not alone in its share price weakness. Anglo American Platinum has lost about 30% of its value since the beginning of the year whilst Impala Platinum and Northam Platinum are 38% and 14.7% weaker respectively over the same period.