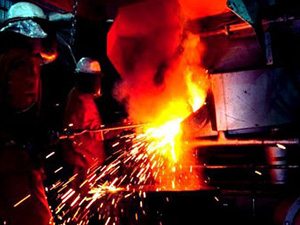 Lonmin management has announced a series of cost saving and cash raising
initiatives intended to haul the embattled platinum miner back from the brink.
The London-listed company said on Wednesday it would implement a $400-million
rights issue and seek to amend its debt facilities to raise a further US$370 million
which would mature in May 2020. The banks have agreed in principle to restructure
the loans so long as investors approve the rights issue.
The Public Investment Corporation, 7% owner of Lonmin which invests almost R1.5-
trillion of government employees pensions, has indicated it will seek to follow its
rights. In addition, the PIC is likely sub-underwrite a material portion of the issue in
excess of its entitlement – a move that could boost shareholder confidence.
Lonmin's share price has collapsed more than 92% in 12 months from a high of R195
in November to R14.75 at the end of last month. A further blow came earlier this year
when Glencore, Lonmin's largest shareholder, divested its 24% stake in the company
saying it was a non-core asset.
Investors and analysts have long anticipated that Lonmin would be forced to drum up
capital: the company has struggled with high production costs and in a low platinum
demand environment, and it has become increasingly clear that the $560 million bank
loan due next year won't be delivered. Further details on the rights issue are expected
to be announced on November 9, and closing should take place before the end of the
year.
Lonmin made it clear on Wednesday that while the plan is to slash fixed costs and
capital expenditure, safety would not be compromised and the company would be
ready and able to ramp up production when the sun again shines on PGM prices.
Among a range of other cost saving initiatives, three of Lonmin's highest cost shafts
are to be put on care and maintenance. While shaft 1B would be closed "as soon as
possible', the Newman and Hossy shafts would close after available ore reserves had
been mined out.
Lonmin is already well on its way to putting the restructuring plan into action. Capital
expenditure for the year on an unaudited basis, was $136 million, almost half the
original guidance of $250 million. Going forward Capex is aimed to be around
US$110M in 2016 and$188M in 2017.
In addition, net debt is expected have fallen to $185 million, from the $282 million
reported for the half year to March 31.
A recruitment moratorium has allowed natural attrition to reduce workforce levels and
by the middle of October more than 1,550 employees had taken voluntary
retrenchments or early retirement.
However, the pain is just beginning in this area: around 6000 employees will likely be
retrenched or moved during next year's downsizing operations which should be
completed at the end of September. It is an issue that will almost certainly raise the
ire of unions and potentially even result in strike action, something the company can
ill afford given the financial and operational pounding it received during a 5 month
long strike last year. It would likely also spark investor alarm since the company will
forever be connected with the Marikana massacre at which 44 miners were gunned
down during a massive strike action.
However, BMO Capital Markets – the investment banking subsidiary of Canadian Bank
of Montreal – said operational restructuring plans fell "short of expectations'. Lonmin
posted operational savings targets for 2016 and 2017 at $52-million and $72-million
respectively; however BMO Research's expectations were far more ambitious at
$120M for 2016 and a whopping $320M for 2017.
Along with its restructuring plans Lonmin announced a trading update in which it
noted the cost of production per PGM ounce would be around R10,339 for the year
ended 30 September 2015 – "well within the original guidance' of R10,800.