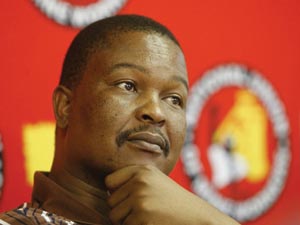 [miningmx.com] – THE National Union of Mineworkers (NUM) may join the Association of Mineworkers & Construction Union (AMCU) in a strike at the Rustenburg mines of Anglo American Platinum (Amplats) after failing in a court bid to stop the restructuring of its operations.
"The implications of the court decision is that we are now forced to go to the CCMA (Council for Conciliation, Mediation and Arbitration) which will lead us to the same route as AMCU in industrial action," said Lesiba Seshoka, spokesperson for the NUM.
"We are going to weigh our options," he added.
The Labour Court today handed down a judgement that Amplats had consulted fairly with unions ahead of issuing retrenchment notices to about 3,300 miners at the Rustenburg mines.
"Amplats was entitled to bring the consultation process to an end when it did and to issue retrenchment notices,' the Labour Court is quoted to have said in an article by Bloomberg News.
Seshoka acknowledged Amplats had run a consultation process, but that when the union set down proposals for limiting job losses further, Amplats "reneged on its original proposal".
The NUM may request a rejoinder as UASA has already requested intervention from the CCMA into the restructuring. If a certificate of non-resolution is issued by the CCMA, then the unions had the right to strike, said Seshoka.
Amplats announced in January that it intended to restructure four unsustainable, high-cost shafts – Khuseleka 1 and 2 and Khomanani 1 and 2 – which would be put on long-term care and maintenance, a development that would have affected up to 14,000 jobs.
However, after a government and union backlash, Amplats decided to revisit its plans (which it subsequently did twice), eventually cutting the number of retrenchments at its Rustenburg mines to about 3,300 people.
This was after a three month consultation period with the government and unions, but which changed midway to a bilateral discussion between it and the departments as the information-sharing process involved confidential information, Amplats said.
In the latest iteration of its restructuring, base line production would be reduced to 2.2 to 2.4 million ounces compared to base line output of 2.1 to 2.3 million ounces previously. Production from the shafts would be cut by 250,000 ounces with a further 100,000 oz due to be cut over time versus the previous plan for a 400,000 oz cut.
The restructuring has already provoked a strike by AMCU, now well into its second week and involving the loss of about 3,100 oz of platinum production daily – equal to a loss of R600m in revenue if the strike continues to the weekend.
According to Bloomberg News, Amplats CEO Chris Griffith and Joseph Mathunjwa, president of AMCU, were locked in discussions for a second consecutive day in an attempt to solve the impasse.
Mathunjwa said on October 7 that the union principally wanted jobs under labour hire – contractors – to be axed first before full-time employees were retrenched.