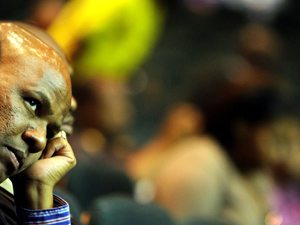 [miningmx.com] – JOSEPH Mathunjwa, president of the Association of Mineworkers & Construction Union (AMCU), said his organisation would persist with a strike aimed at halting retrenchments at Anglo American Platinum's (Amplats') Rustenburg mines, now into its second week.
He also criticised Amplats for negotiating in bad faith; threatened to call a secondary strike that would affect the country's gold sector; and said he had written to the Public Protector to investigate Amplats' practice of employing contractors – a key element of the impasse between AMCU and Amplats.
About four-fifths of workers at Amplats' Rustenburg mines, where some 3,158 workers are to be retrenched, have been on strike since September 27. Mathunjwa said AMCU members would remain on strike until Amplats had investigated all options.
The key sticking point is that Amplats is retaining the services of contractors while permanent employees were being retrenched – a development that Mathunjwa said was giving him "sleepless nights".
"Our members will continue to strike if there is no agreement with Amplats," said Mathunjwa at a press conference in Sandton. "Why does Anglo want to terminate its own employees and leave contractors behind?", said Mathunjwa.
There had been progress in discussions over the past weekend, but Amplats had changed its position. "We agree in principle and then on following day, when we want to cement the deal, it is changed," said Mathunjwa who accused Amplats of "moving targets".
Excluding September 28 when no work had been planned at its Rustenburg mines, Amplats has lost about R300m in revenue. The group has said that a prolonged strike would threaten the viability of the shafts further.
Mathunjwa, however, took a broad, national view of the standoff saying the principle of defending the rights of all permanent employees in the mining sector was at stake. "The whole mining industry in the next two years will be run by 'Labour Hire' (contracted labour). We cannot allow such a thing," he said.
He also railed against contract labour as it perpetuated labour broking which promoted job insecurity. "As we all know that labour broking creates job insecurity and unfortunately this is what Anglo American Platinum supports," he said.
Asked whether the strike would merely result in endangering other jobs not currently earmarked for retrenchment, Mathunjwa said that it was possibly Amplats' strategy to weaken the resolve of AMCU members.
He warned of the repercussions of this strategy. "It could be a strategy to prolong the strike to divide our members. But they need to be careful that we don't call a secondary strike in other sectors in support of the Amplats members," said Mathunjwa.
Mathunjwa said he "smelled a rat" in Amplats' policy of employing contractors and claimed to have possession of a letter a copy of which he sent to Thuli Madonsela, the public protector, asking for an investigation into Amplats' labour hire policies.
Mathunjwa has long been critical of links between business and politics and his reference may be to companies such as JIC Mining Services, a firm in which President Jacob Zuma's son, Duduzane Zuma and the Gupta brothers, an Indian business family, have shares.
It is thought JIC Mining Services offers labour broking services in the North West province where South Africa's platinum mines are situated, an allegation that has been refuted by the company.
Mathunjwa's comments come amid an increase in tensions in the platinum sector as wage talks stall. AMCU has demanded 60% plus increases to entry level worker wages while Amplats has said that it cannot digest double-digit increases in salaries.
Mathunjwa declined to comment on progress in wage talks. "Let's restrict our comments to the strike at Amplats," he said.