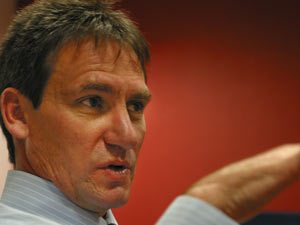 [miningmx.com] – THE platinum strike by the Association of Mineworkers & Construction Union (AMCU) has clearly reached a turning point that will have enormous consequences for investment opportunities in the mining industry.
On February 20, the strike reached four weeks duration, with a calculated loss of R4.4bn in income, but attitudes have hardened so much that it now looks as if the strike could continue for several months unless something extraordinary happens.
Market analysts were this week amazed at the aggressive strategy that Anglo American Platinum (Amplats) is adopting to the strike, including a questionable damages claim of R589m against AMCU and attempts to obtain a detention order against the union's top shop stewards for alleged contempt of court.
These are indications that Anglo, the first company that allowed union activities at its mines in the early Eighties, is under pressure from all sides. On the one hand, its London head office wants it to get rid of its underground mines around Rustenburg; on the other hand, there's pressure from the South African government and the African National Congress to crush AMCU for political reasons so that its rival, the National Union of Mineworkers (NUM), can become the dominant union at the mines again. The NUM is one of the ANC's most important election allies.
Amplats CEO, Chris Griffith, is trying his best to retain the Rustenburg mines, because without them Amplats will no longer be the largest producer.
However, the board and the London head office are just as adamant that all Amplats' mines must be profitable. "They would not at all mind being third or even lower on the list of producers, as long as the mine makes money," an analyst said.
Another role player with close ties to Amplats has pointed out that the Anglo group's executive director in South Africa, Khanyisile Kweyama, and Amplats chairman, Valli Moosa, are veterans of the ANC's liberation struggle, former exiles with a life-long loyalty to the party.
"He (Griffith) is under so much pressure to act against AMCU that he can or will not listen to any other advice," the source said.
Last week it was reported that Griffith was advised by Susan Shabangu, minister of mineral resources, to lay the charges against AMCU. He was asked three times at a news conference last week if this is true. He initially gave lengthy explanations, but eventually said he was not prepared to answer the question.
A prolonged strike will mean that Griffith has lost the battle and the mines will be sold.
He has said several times recently the strike will end soon after the end of the month, because workers will then for the first time have lost a full month's pay.
"He's dreaming. Those workers are sitting at home in the Eastern Cape or Lesotho. They catch fish, pick a few mealies and live on R5 a day. They follow Twitter to see when the strike is over and they must go to work again. They can go on for months," one of the country's most experienced negotiators told Sake (Afrikaans medium newspaper published in Johannesburg) last week.
The board and Anglo's head office want Anglo to keep only its BEE partnership mines and its mechanized opencast mine, Mogalakwena, in Limpopo.
If Anglo's Rustenburg mines are sold, it would place that about 60 000 jobs in jeopardy. Amandelbult will probably be snapped up by Northam and slimmed down, which will significantly increase Northam's production capacity.
"Buyers of the other shafts will have to reduce operations substantially, but will be able to run them profitably for several years if the process is applied correctly as a kind of Harmony or Sibanye of the platinum industry," a highly experienced source said.
A prolonged strike would also mean that literally hundreds of small black empowerment companies that were formed in the Rustenburg area in recent years would disappear again.
The companies supply the mines and were established with the help of the mines in order to promote black economic empowerment and comply with the requirements of the mining charter. They include suppliers of pipes, safety equipment, maintenance services and even catering.
"Most of them are still young and have a lot of debt. However, they have no turnover while the strike continues. If the strike goes on much longer, they won't be able to survive," a manager of one of three platinum groups said.