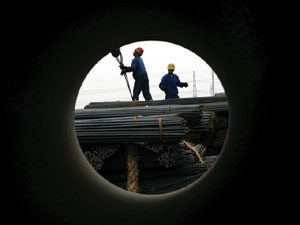 [miningmx.com] – ANGLO American Platinum (Amplats) was due to sell or shut its union mine as part of a review the details of which are scheduled to be unveiled on Tuesday (January 15), said Reuters citing a person familiar with the platinum firm's plans.
The Union mine, which is 85% owned by Amplats, was likely to be the "most dramatically affected' by the plan, said Reuters citing a source. Amplats is unlikely to make sweeping changes at any of its 100% owned mines, Reuters said.
Union produced 254,000 ounces of platinum in 2011 and employs around 7,800 people, said Reuters. It is divided into Union North and Union South and one analyst said the northern wing was less profitable and the most likely candidate for closure.
A spokeswoman for Amplats said the review was due to be announced on Tuesday, but declined to comment further.
Amplats said Monday (January 14) it would report headline per share losses of as much as 628c for its 2012 financial year amid heavy output declines and a R6bn write-down of uneconomic projects and assets not in use.
Some 306,000 ounces of production had been lost during the second half of the year primarily owing to the two months of industrial action. The ramp-up of operations began on November 16, the company said.
Analysts said that Amplats' refined platinum output would probably come in at 2.1 million oz, well below the 2.2 million oz to 2.5 million oz it guided the market it would achieve as recently as October.
While lower production will give support to the improvement in the platinum price, there are questions as to the extent of Amplats' restructuring given the parlous state of labour relations and the current political environment around job losses.