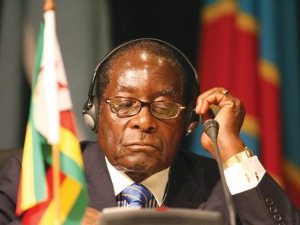 [miningmx.com] – PRESIDENT Robert Mugabe heaped the pressure on South African platinum miners operating in Zimbabwe saying recent indigenisation transactions were "a mistake" and that the minister responsible for crafting them "did not quite understand what was happening".
He added that he was unhappy to repay vendor financing, a critical part of the deals in which Impala Platinum (Implats), Aquarius Platinum and Anglo American Platinum 'sold' 51% of their shares in platinum mines in Zimbabwe.
Mugabe's comments come amid fresh controversy in Zimbabwe in which the government officially gazetted the expropriation of over of 27,498 hectares of land belonging to Zimplats, a company in which Implats has a 49% stake. Zimplats and gave the company 30 days within which to appeal against the decision.
"The President intends to acquire compulsorily part of the land held by Zimplats Holdings Ltd. under special mining lease,' reads a decree in the government gazette.
Speaking on television ahead of celebrations to mark his 89th birthday at the weekend, Mugabe said: "The problem is that Zimplats gave us 51% shareholding saying they were loaning us the money (for the acquisition of the shares) and then we would have to pay back. That is where our differences are".
He added that "the Minister (Saviour Kasukuwere had) made a mistake' as he "did not quite understand what was happening and yet the theory is that our resource is our share, that is where the 51% comes from'. Kasukuwere is the minister for youth, empowerment and indigenisation.
There was no immediate comment from Zimplats officials in Harare although the company as well as the CEO of Implats, Terrence Goodlace, have previously said that they had not been informed of the decision to take over land belonging to Zimplats.
Implats agreed to cede 51% shareholding in Zimplats to black Zimbabwean groups in January under the controversial policy which analysts say is being pushed ahead of elections expected in July this year.
Other foreign owned mining companies such as Anglo Platinum's Unki mine and Mimosa, jointly owned by Implats and Aquarius Platinum have also complied with the policy.
As fresh controversy and uncertainty continued to haunt Zimplats, the company said on Friday that "it did not agree to pay any fees" to a local company called Brainworks which says it rendered advisory services to the indigenisation deal.
Kasukuwere has come under fire from coalition government partners for forcing Implats to sign the deal without following due procedure.
There are concerns that the Zimplats indigenisation deal was pushed through without proper approvals while Brainworks was allegedly awarded the job without tendering, an allegation Brainworks has denied.
"Brainworks was engaged by the National Indigenisation and Economic Empowerment Board (NIEEB) and acted for and advised NIEEB/the Government of Zimbabwe in the negotiations between NIEEB/the Government and the Company in relation to the operating subsidiary's IIP," Zimplats said.