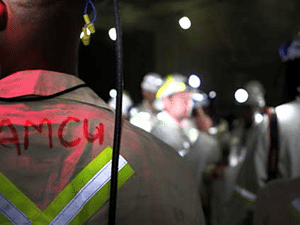 [miningmx.com] – ON January 23, some 70,000 to 80,000 members of the Association of Mineworkers & Construction Union (AMCU) followed their leader Joseph Mathunjwa into strike action at the Rustenburg mines of Lonmin, Anglo American Platinum (Amplats), and Impala Platinum (Implats).
The demand was for a basic entry-level pay for all miners of R12,500 per month – a level that the platinum sector it cannot afford. Roughly 60% of the industry is already loss-making, it argues. Agreeing to such terms will imperil the sector, they said.
Here's how one of the longest and most acrimonious of strikes has played out over the last two months.
15 January – The South African rand slumps to a five-year low on fears of renewed strike action in the country's platinum sector.
THE PLATINUM PRICE = $1,420 per ounce on January 15
23 Jan – South Africa's police services deploy extra forces across the country's platinum belt in North West province as some 70,000 workers embark on a strike from that morning's shift.
"There are pressures from all sides to reach an agreement,' – AMCU treasurer, Jimmy Gama.
29 Jan – Employers submit pay offers in which a revised three-year wage offer proposes a 9% increase for entry-level workers in the first year. It is described as "a journey' to R12,500 per month.
THE PLATINUM PRICE falls to $1,380/oz on January 31.
End of Week 1

Employee earnings lost = R512.5m

Companies revenue lost = R1.16bn
February 4 – Wage talks resume between AMCU and employers after Commission for Conciliation, Mediation and Arbitration (CCMA) fails to broker a solution on February 1-2. Talks are adjourned again by February 5 with AMCU making no concessions.
Feb 7 – An Amplats employee, and AMCU shop steward, dies following a clash with the South African Police Services (SAPS) at Union mine where protesting employees had barricaded a road with burning tyres and rocks. Picketing rules being broken but strike reasonably peaceful compared to 2012.
Feb 14 – Amplats CEO, Chris Griffith, predicts AMCU will make concessions as workers suffer first full month of no pay. "It's payday in week's time and for second month in a row workers will take pain and on payday we will see movement in this process,' he says. It proves a false hope.
Feb 16 – Amplats announces it is is suing AMCU for R600m in damages caused by its members during a strike at the platinum firm's premises.
"The longer we stand the more irreversible" damage to the mining assets were sustained' – Terence Goodlace, CEO, Implats.
Feb 26 – Discussions between the platinum producers and AMCU resume under the auspices of the CCMA.
Feb 27 – Eskom spokesperson Andrew Etzinger, delivers a silver lining to the strike clouds saying the platinum strike had resulted in some 400MW less demand on the South African power grid, equal to about 17% of normal demand.
"People might have underestimated the mineworkers' resolve' – Stephen Meintjes, analyst, Imara SP Reid.
End of week 5

Employee earnings lost = R820m

Companies revenue lost = R1.86bn
March 6 – Finally, six weeks into the strike, AMCU makes its first concession, adjusting its demand for a R12,500 per month basic salary by asking it be reached over three years. Employers reject it, however.
THE PLATINUM PRICE rises to $1,485/oz, the highest level this year.
"Our demands were submitted with blood on the mountain in Marikana' – Joseph Mathunjwa, AMCU.
Mar 9 – The Sunday Times publishes article in which Chamber of Mines lead negotiator, Elize Strydom, criticises the CCMA for not understanding economics after its proposal to AMCU fails to deliver results. CCMA calls on Chamber head Bheki Sibiya to "face the consequences'.
Mar 11 – CoM CEO, Sibiya, sorry for CCMA embarrassment but offers no apology. The break-down raises questions about how quickly talks can re-start. It's a serious blow for the process.
Mar 19 – Mathunjwa takes memorandum to offices of Amplats and tells the following crowd that "tricks' by employers will not work. He is referring to a meeting on March 16 between a delegation of traditional leaders led by Congress of Traditional Leaders of SA (Contralesa) president, Kgosi Setlamorago Thobejane, and mineworkers in Rustenburg.
Mar 20 – It's official. The strike is set to become the single biggest since 1994 with production losses at 440,000 ounces increasing to 800,000 oz as some 300,000 oz will be lost in time it takes the miners to rebuild production.
End of Week 8

Employee earnings lost = R4.1bn

Companies revenue lost = R9.3bn
THE PLATINUM PRICE falls back to $1,455/oz with investors apparently satisfied there are enough above-ground stocks available.
March 28 – Amplats reiterates comments on March 26 by Implats that job losses and closures of mines in Rustenburg has become a reality owing to the strike action. Both companies say they will opt for mechanised mines and desist from buiding labour intensive ones.
"It feels to me like we're entering the settlement zone,' – Chris Griffith, CEO of Amplats.
April 2 – Mark Cutifani, Anglo American CEO, drops a minor bombshell telling reporters at the FT Commodities conference that if Amplats under-performs it may fall victim to the UK group's restructuring process and thus could be sold.
April 3 – AMCU marches on the headquarters of Lonmin in Melrose Arch in Johannesburg to deliver a memorandum outlining its demands. Prior to that event, Ben Magara, CEO of Lonmin, says the company's workers want to return to work but are being intimidated. He can't say whether AMCU is keeping members away from work, or whether a third unknown force is at work.
"They are telling us they are being intimidated. Is it AMCU or not? We don't know," – Ben Magara, Lonmin CEO.
THE PLATINUM PRICE falls to $1,438/oz, and continues to resist a major rally suggesting alternative sources of supply are still strong.
End of Week 10

Employee earnings lost = R5bn

Companies revenue lost = R11bn